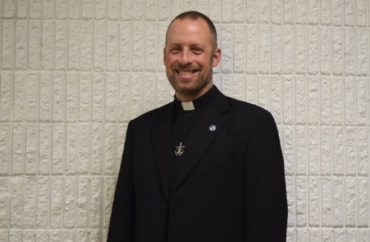 Students followed up a cry session with a protest calling for his removal
LGBT activists at the University of Portland, continue to call for the removal of a Catholic priest who opposes their agenda.
Dan Parrish (pictured), a Catholic priest, already agreed to move out temporarily of a residence hall where he lived as a "pastoral resident," available to help minister to the needs of students.
But the LGBT activists, some of whom recently broke down in tears during a town hall, say this is not enough.
They remain upset at him because he asked residence life staff to reconsider hanging a rainbow flag in the halls.
The Catholic Church teaches that homosexual activity is sinful and that "pride," which the rainbow flag celebrates, is the deadliest sin.
He also reportedly tweeted criticism of transgenderism, COVID vaccines and masks, though the campus paper never included any actual examples of what he said and Parrish has deleted many of his tweets.
"Despite Parrish's email announcing that he will move out of Lund through the end of the school year, students still gathered to call for his full removal and discuss the wider implications of his actions at UP," The Beacon reported.
"Queer identifying students and LGBTQ+ allies spoke of support for the protest as well as the uncomfort Parrish and Lund [residence] hall staff have caused them," The Beacon reported. "I'm not a resident in Lund, but I am still hurting," August Stone, the president of the campus homosexual advocacy group, told the student newspaper.
Theology professor says 'queer' anger is 'divine instrument'
Others have weighed in through campus opinion pieces to say how they are unsafe with a Catholic priest who believes in what the Catholic Church teaches, living on campus:
— One former residence life staffer asked another priest to get Parrish removed and compared the proposed removal to the same procedures used to get someone accused of sexual assault kicked out of dorms.
—David Turnbloom, a theology professor at the university, compared Catholics who uphold the Church's teaching on homosexuality to the soldiers who nailed Christ to the cross. "The anger of the Queer community is a grace-filled, divine instrument," he wrote. "The question for Catholics is: do we have the competence to see our sin? Without this competence, any courageous acts of ministry run the risk of simply continuing the crucifixion," he said, without a hint of irony in his defense of people living obstinately in sin.
–Another former residence life staffer called Parrish a "danger to all LGBTQ+ students" and accused him of inflicting "religious trauma." She also complained about the presence of crucifixes because they represent the Catholic Church, which does not recognize same-sex unions as valid marriages. Parrish had said the crucifix represented inclusion, not the rainbow flag.
Parrish said he is still available to help students in need.
"I commit to redoubling my efforts to love and serve you well," the priest said. "You will all be in my prayers during this end of the semester."
MORE: Loyola's 102-year-old nun on hand for March Madness
IMAGE: UP Beacon
Like The College Fix on Facebook / Follow us on Twitter