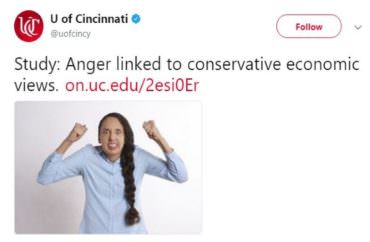 Nevermind Bernie Bros and Occupy Wall Streeters who vehemently demand income equality and socialism; it's the conservatives who are really pissed.
That according to a new study by University of Cincinnati assistant professor of marketing Anthony Salerno and University of Manitoba assistant professor Keri Kettle, who claim that "people tend to lean more economically conservative when they're angry," according to a press release on the University of Cincinnati's website.
It's a finding that caught some by surprise.
"The University of Cincinnati has yet again expressed its disdain for conservative thought," Cincinnati Republic columnist Brad Johnson wrote, referencing a tweet on the UC twitter page captioned "Study: Anger linked to conservative economic thought."
Study: Anger linked to conservative economic views. https://t.co/yktGUaBx5S pic.twitter.com/sc7W6HAhgv

— U of Cincinnati (@uofcincy) September 2, 2017
But University of Cincinnati spokesman Gregory Vehr said in an email to The College Fix that the study is being slightly misinterpreted.
"It might help you to know that the research coverage in question is perhaps being read with a political overlay that was not intended. Use of the word conservative in the research and the university's coverage of it was not intended as signifying or limited in meaning to a specific political party. The research and its coverage makes use of the word conservative with a lower case 'c' as meaning 'cautious' or 'marked by moderation,'" Vehr said.
As for the study, more than 1,000 participants were asked to answer a variety of philosophical and economic questions which showed "positive relationships between anger proneness, economic conservatism and competitiveness," the press release stated.
Afterward, the professors paid more than 200 participants to write essays and answer surveys about what a typical day is like for them and how they feel when they are angry.
"When Salerno and Kettle started the project, they originally thought that anger might just make people more conservative in general, but that turned out to not be the case," the press release stated. "It's this very specific aspect of a person's political views."
The Cincinnati Republic's Johnson argues these findings are dubious.
"By disregarding the foundational basis in reality of laissez-faire economic policy, the conductors of this study attempt to link emotion to an inherently unemotional policy," he wrote in an op-ed.
Johnson also questioned whether individuals were capable of objectively assessing their "proneness to anger," and that setting up a controlled experiment where respondents were subject to specific triggers would have been better.
"But perhaps they are right," Johnson said. "As a current angry alumnus, I plan on being rather 'conservative' with any future donations to the University."
MORE: 'Activism' class at University of Michigan teaches capitalism should be 'overthrown'
Like The College Fix on Facebook / Follow us on Twitter