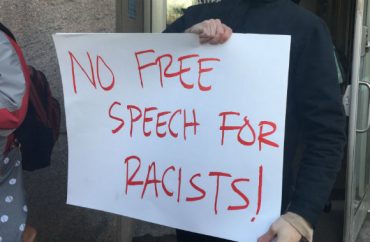 Republicans more bothered by Communists than Black Lives Matter activists
College students may talk a good game on their support for bringing multiple viewpoints to campus, but some impose far more exceptions than others.
In its final analysis of the results from its "Speaking Freely" survey of college students' views on freedom of expression, the Foundation for Individual Rights in Education found a 19-point spread between Democratic and Republican students on the question of whether "there are times a speaker should be disinvited."
That is, Democratic students have greater disregard for freedom of expression in general than Republicans.
The pattern even holds issue-by-issue, with seven categories of speech (or person) in which more than 40 percent of Democrats support disinvitations. Republican support for disinvitations of any kind only crosses 30 percent in two categories, "Anti-American" and "None of the Above" (?).
More than 50 percent of Democrats support the disinvitation of a "racist" speaker (keep in mind these terms aren't defined), with support from the high 40s to low 40s for disinviting "sexist," "homophobic," "Donald Trump," "transphobic," "Islamophobic" and "A Holocaust denier."
From that list, only "racist" and "sexist" cross 20 percent support for disinvitations from Republicans. Slightly fewer support disinviting a "Communist" speaker, and even fewer "A Black Lives Matter Activist."
Mid- to high 30s for Democrats: "Anti-Semitic," "Fascist" and "Alt-Right." According to FIRE's graph, more Democrats support disinvitations than Republicans in 10 categories, and more Republicans than Democrats in six categories.
What speakers do students want to disinvite, and why? We delve into the results of our report on college students' attitudes toward expression: https://t.co/CTNTCXzeiC pic.twitter.com/EfWua9T8Kw

— FIRE (@TheFIREorg) January 16, 2018
But as for the percentage of support for disinvitations, there's no contest: Democratic students are the most hostile to freedom of expression that offends them.
Political independents vary by the issue, but in general they are the most likely (37 percent) to say "they would not want their school to disinvite a speaker," according to FIRE:
More Independent students (68 percent) also agree to having changed an attitude or opinion about an issue after listening to a guest speaker, than their strongly Republican (50 percent) or strongly Democratic (66 percent) peers.
The survey measured attitudes among "strong" Democrats and Republicans, but not those who identify as "weak" or "lean" toward a party.
MORE: Poll shows lots of college students ambivalent about, hostile to free speech
Like The College Fix on Facebook / Follow us on Twitter