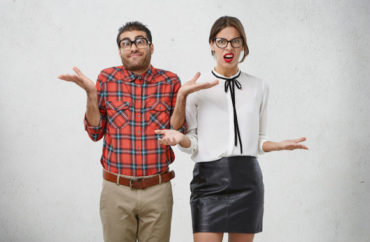 We are at a time and place in late 2021 where it literally has become acceptable to ponder the exclusion of a specific race of people from a college party.
That is, if the race is white.
A student at Swarthmore College last week penned an entire op-ed on this topic as a situation arose which — allegedly — warranted the ejection of Caucasians at the small, private institution near Philadelphia.
In The Phoenix, economics major Sameer Halepoto points to a pre-Thanksgiving party hosted by the Swarthmore Queer Union, Swarthmore African Student Association, Swarthmore ENLACE, and the Swarthmore African-American Student Society which had filled up rather quickly.
Halepoto says "typical [Swarthmore] parties include an outsized number of white students (many of whom are athletes), making it harder for marginalized groups to feel welcome."
As a result, party organizers blared a repeating electronic message through speakers which warned that white people had to leave.
"To be fair" to the organizers, Halepoto writes, they were in a "lose-lose situation." Apparently they attempted to create a "safe space" for marginalized groups and to make a "concerted effort to include affinity groups within settings occupied by non-marginalized people."
MORE: Swarthmore trans, non-binary students feel 'uncomfortable' in campus housing
But keep in mind white people can be queer and/or Latinx. Halepoto wonders how many whites who remained after the "get out" warning actually were either: Did the announcement create "an incentive for students to falsely identify with a marginalized identity"?
Halepoto also (ridiculously tactfully) says it's "fair to question" whether telling whites to leave was "the optimal solution to creating a more inclusive party" considering it violates college rules for official student groups. In addition, it "sow[s] further division on campus at a time when such issues are especially salient."
When it comes to including marginalized groups — like those represented by the hosts at Paces on Saturday night — students' approaches are often at odds with each other. We want safe spaces that are exclusively occupied by a given marginalized group. At the same time, we want to do more to center marginalized groups in settings occupied by white people, which would necessitate interaction between marginalized groups and white people. Racial exclusion, however, does not contribute to either and goes against the type of community we strive to cultivate at [Swarthmore].

Racial exclusion and trying to achieve the equilibrium ratio of white:BIPOC at a party only creates an illusion of equality. It creates a temporary feeling of control for some and resentment for others when we could be using such events to create spaces that center marginalized groups and welcome allies simultaneously.
According to his Linkedin page, Halepoto "create[s] a welcoming and inclusive environment for new students" as a Swarthmore teaching assistant, and also works as a private consultant for "socially conscious firms."
The Swarthmore student paper has a history of somewhat inane editorials; in 2016 it apologized for an op-ed (in an editorial titled "We Fucked Up") which told students to "stop whining" about their affluent peers. And a year ago, the paper advocated for a critical race theory graduation requirement.
MORE: Swarthmore students upset they actually got in trouble for office sit-in protest
IMAGE: WAYHOME studio / Shutterstock.com
Like The College Fix on Facebook / Follow us on Twitter