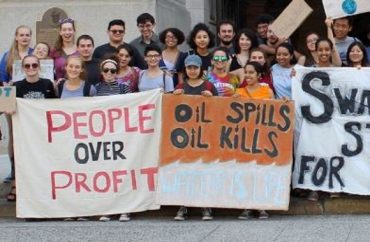 Angry and distressed at the idea of cheap, affordable energy, a group of Swarthmore College students and faculty recently staged a sit-in at the office of the school's president in order to protest Swarthmore's investments in fossil fuels, and activist alumni converged at an event attended by President Valerie Smith, to continue their campaign to hound campus leaders to cave.
The Monday morning protest at the president's office was put on by a group known as "Mountain Justice," founded in 2010 and composed of students, faculty and alumni of Swarthmore. Around forty protestors reportedly gathered in the president's office as part of the demonstration, reports Philly.com.
On its website, Mountain Justice displays a proposal to "Divest from Destruction, Reinvest in Justice." This proposal includes an immediate investment freeze in fossil fuel companies, a gradual divestment from those companies over a 2-5 year period, and ultimately a reinvestment in "community and renewable energy solutions."
On its Facebook page, Mountain Justice encouraged students to attend the protest, writing that "the fossil fuel industry is partnering with the Trump administration to promote an all-out assault on our communities and our futures." Based on Facebook live videos on the group's page, protest activities included speeches, songs and sign-holding.
According to Mountain Justice's "Institutional memory," the group uses a consensus-based decision-making system known as "starfish" wherein, when a group decision needs to be made, "everyone in the group holds up one hand with anywhere from 0 to 5 fingers up."
Today, the group celebrated disrupting another event on Tuesday: "President Smith is feeling the pressure. Last night, she abruptly ended an alumni reception in San Francisco without the usual Q&A time at alumni events. This comes after alumni were gathered outside holding signs and talking to attendees about divestment."
MORE: Professor debunks claim fossil fuels damage planet
MORE: Swarthmore students upset they actually got in trouble for office sit-in protest
Like The College Fix on Facebook / Follow us on Twitter
IMAGE: Facebook screenshot