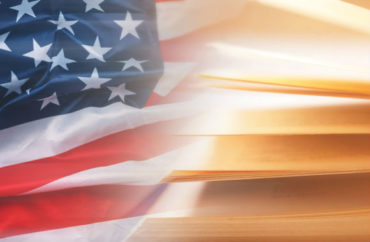 Character formation more important than technocratic learning
WASHINGTON – Students today need to be taught more than how to achieve high test scores, but also how to become whole human beings and patriotic citizens. This is becoming more difficult as the American public education system increasingly emphasizes technocratic knowledge over the teaching of history and civic education.
So said education experts Tuesday night at the Hoover Institution for its Education 20/20 series, co-sponsored with the Thomas B. Fordham Institute.
"Patriotic history is a glue to civil society, holding the country together," and should be taught in school, said Eliot Cohen, director of strategic studies at Johns Hopkins University's School of Advanced International Studies.
He recalled how old history books geared towards children shaped his own character at a young age. "We shouldn't put everything on teachers— a lot of it is what we make available to children" outside the classroom, said Cohen (below left, with Fordham Institute President Emeritus Chester Finn).
Cohen argued that one of the problems within the historical profession is that it emphasizes narrow expertise instead of a broad knowledge of history. This makes teaching difficult.
History professors today often write on topics that don't appeal to audiences outside of their field, he said. "The incentive structure is profoundly screwed up," Cohen told The College Fix during the question-and-answer portion.
Professors essentially buy themselves out of teaching, choosing research and publishing over classroom instruction, because they have stronger incentives for the former. "The idea that it is a reward not to teach is anathema," said Cohen, who served as counselor of the State Department in the George W. Bush administration.
Because student enrollment in history programs is dropping, Cohen believes that the academy is coming around to how important it is to make history relevant to the public. He cited the College Board's revision of its changes to Advanced Placement U.S. history standards when conservatives complained that the standards overemphasized the negative aspects of American history.
Peggy Metcalf, an attendee who teaches U.S. history at the AP level, disagrees with Cohen's optimism about the historical profession's changing outlook.
"High school teachers often, inadvertently, send their students off with disdain for the country," she told The Fix during a break at the event. "A lot of that is coming from the academy— the colleges that [teachers] come from and the materials available to them."
MORE: History professor rips down campus 9/11 'Never Forget' posters
Modern education policy is too technocratic, lacks an emphasis on civic education, and must include character formation, said Yuval Levin, vice president of the Ethics and Public Policy Center.
He told attendees that schools should look beyond an achievement score agenda. Public education should mold the souls of rising citizens and not just the minds of future workers, said Levin, who is also the founding editor of National Affairs.
Teachers should help children think about what it means to be human, he said. "Our children are not just readers and calculators."
When asked if school choice is a solution to the education problem, Levin said the public school system has inherent value and is worth preserving.
The conservative strategy should not abandon public education and leave the majority of Americans trapped in the system, according to Levin (below right, with Fordham President Michael Petrilli). Keeping schools locally controlled will help promote true diversity within public schools, he said.
Susan Sclafani, an attendee and board member of Character.org, agrees with Levin. She told The Fix after the event that "public education will remain the educator of the vast majority of Americans, so we are required to make it as good as it possibly can be." Her organization promotes character development in communities and certifies character initiatives in schools.
Catherine McKenna, who teaches history at Georgetown University, said Cohen and Levin made her realize the interrelation of history, civics and character.
History should teach pupils how to be a good American, a good citizen and a good person, she told The Fix after the event. "We should teach American history with an emphasis on civic education."
MORE: Levin honored with 'Buckley' award for young conservatives
IMAGES: BLACKDAY/Shutterstock, Krystina Skurk
Like The College Fix on Facebook / Follow us on Twitter