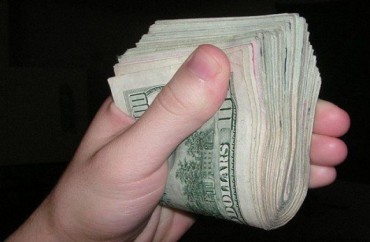 A Los Angeles-area music teacher who repeatedly punched a student in retaliation for being called the N-word now has a $150,000+ GoFundMe page set up to assist him.
Sixty-four year-old music Maywood Academy High School teacher Marston Riley seemed to maintain his cool throughout most of the situation — a 14-year-old student defied Riley's request to leave the classroom over a dress code violation — until the racist taunt. The scuffle was caught on cellphone video.
The physical confrontation appears to begin shortly after the student tosses a basketball towards Riley's mid-section and asks "Why you wisecracking, my n—–?"
According to The Washington Post, Riley "let loose on the boy, reportedly pummeling him repeatedly." Some students appear to attempt to stop the fracas, while others cheer on the altercation and record it on their phones.
The student required hospitalization and Riley was arrested and charged with child abuse by the Los Angeles County Sheriff's Department's special victims bureau.
Riley's former colleague Cecilia Diaz Jimenez set up the GoFundMe page in his name because "the school district is looking at dismissing him and [she] would not doubt if the student's parents are looking into pressing criminal charges."
The page has a banner titled "TEACHERS DESERVE RESPECT" and notes Riley has dealt with "unpleasant events" over the last few years. It laments that "sadly, he was handcuffed and was sent to jail" for his (recent) actions.
In four days, the campaign surpassed $149,000, far more than its $50,000 goal.

Jimenez is not alone in her support of Riley.

On Monday, students gathered outside the school holding posters lined with music notes that read: "Riley deserves better" and "Justice for Riley."

Najee Ali, a local parent, also told The Washington Post that he supports Riley.

"Many of us identify with this teacher, who is loved and respected by his students. We don't condone physical violence against any student, but we also don't condone racial slurs or threats directed at any teacher," he said.

The faction supporting Riley also intends to hire a private investigator to "search for the truth," Ali said.

Riley has since posted a $50,000 bond and was released Saturday, according to the Sheriff's Department. He is scheduled to appear in court Nov. 30; the local district attorney's office does not have a case filed against Riley, who could not be reached for comment.
A reporter at KTLA-5 noted that "every student" he spoke with was "very sympathetic" to Riley.
Unfortunately, this all may be insufficient as the video footage is very damning for the teacher. Consider:
–A student getting tossed from class … for a dress code violation? This isn't some preppy elite private academy, it's a school in the Los Angeles Unified School District. Unless the student is a chronic offender, class removal seems extreme.
–Physical violence against a student is never justified unless one's own physical safety is in jeopardy. According to the video, this wasn't the case in Riley's situation. The only thing that would qualify is the basketball being tossed at him; however, as seen in the footage, Riley ignored this and pulled out his cellphone to call for assistance.
–There seems to be an insinuation that the student's utterance of the N-word validates Riley's response of physical violence. That Riley is a senior African-American gentleman and the student appears to be Caucasian exacerbates the dynamic, certainly; however, the latter is a child and ultimately the epithet is … just a word.
In a statement, the school district said Riley's actions were "disturbing" and added it is taking the situation "very seriously and do[es] not condone violence or intolerance of any kind."
MORE: Philly school pays kids $100 if they don't get into fights
MORE: HS teacher attacked by student during 'chaotic' anti-Trump protest
Like The College Fix on Facebook / Follow us on Twitter