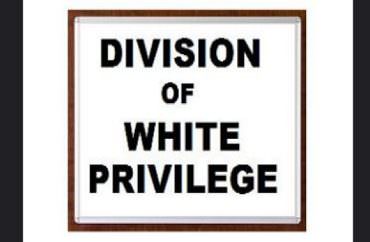 A school district in Tennessee is dealing with blowback after a teacher inservice featured a "former NFL player" lecturing on white privilege and racism.
According to the Times Free Press, on August 2 Hamilton County teachers listened to Robert Jackson inform those assembled that white people's "skin tone will not affect their credit or financial responsibility" nor will whites "lose opportunities" when they make mistakes.
In addition, Jackson's slide presentation repeated the contention common in academic circles that black people cannot be racist "because they lack the institutional power to affect white lives."
Photos of Jackson's slide show were obtained by Patrick Hampton of the conservative think tank Hamilton Flourishing. He is known as a "vocal critic" of the school district.
School board members Rhonda Thurman and Tucker McClendon said their phones were "inundated" with callers irate about the workshop.
"I've heard from several teachers who attended the training and I had some who said they felt very uncomfortable and they did not like the whole discussion and didn't know why they had to hear about it," Thurman said. "We don't need to be balkanizing our school system. How is a white teacher going to feel if this is how they think black people think about them?"
[B]oard member Tiffanie Robinson, who represents several Opportunity Zone schools, disagrees with Thurman. She said she was disappointed that some in the community have misconstrued the purpose of the training.

"Our teachers want to know and understand their students. Many of our teachers, fortunately, did not grow up in the environments our students are coming from. Understanding their home life and community helps our teachers better understand how to build relationships with their students and thus better instruct them toward success," reads a statement from Robinson. "Our school system is striving for progression and empathy in the classroom — the public has asked for this and we as public servants have listened."

She also noted that she is concerned about the current divisiveness around public education.

"I am more sad that community members believe this type of divisiveness in education is healthy where as it is not, and if continued, will hurt all of us. this training is incredibly important for the schools I represent," she said.
In a statement posted to Facebook, Hamilton administrators said parts of the presentation "have been taken out of context and misrepresented.
"The slides are being misrepresented as a presentation on white privilege. For the slides in question, the speaker was reviewing terms that can impact perception and definitions attached to the terms when the slides were used. White Privilege was one of several terms on slides during the short part of the presentation," the statement continues.
District officials say they will "put additional safeguards in place" in the future so that there is "less potential of misinterpretation."
Chattanoogan.com columnist Roy Exum blasted the inservice as "repulsive" and "idiotic," and questioned presenter Jackson's bona fides: "Taught by a man who claims to have played with pro football's Minnesota Vikings as a 'ghost'; there is no mention of 'Robert Jackson' on the Vikings' website, nor is he listed on either the club's or the NFL's exhaustive alumni list […]"
Exum also claims someone "snitched" on the teacher who snapped photos of the presentation, and that this teacher now worries her job is in jeopardy.
Read the Times Free Press article and Exum op-ed.
MORE: Lecture tells students whites are 'dangerous' if they don't see race
MORE: FBI probes signs defending white privilege found at Vermont universities
IMAGE: Mike Licht / Flickr..com
Like The College Fix on Facebook / Follow us on Twitter