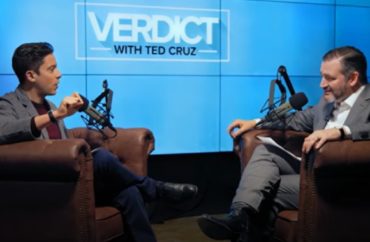 Misconstrues a joke from the Daily Wire host
A freshman Yale student thinks that an upcoming campus event with Senator Ted Cruz and a Daily Wire host should be avoided because of the pair's views on "democracy."
"Ted Cruz and Michael Knowles are guilty of chipping away at democracy," Ely Altman, writing in the Yale Daily News, explains. He also said they represent "real threats" to democracy because of their views on election integrity.
The pair are filming an episode of their show, "Verdict with Ted Cruz" at the Ivy League school on April 11 as part of a tour of universities with Young America's Foundation.
Altman cites Cruz' objection to the certification of the 2020 election and opposition to mail-in ballots as one example. He also criticizes Knowles, a Yale alumnus, but in the process misconstrued a joke the Daily Wire commentator made.
"On the anniversary of Jan. 6, Knowles implored us to remember 'the wise men who traveled a great distance for their leader, the true leader of us all, in defiance of an unjust government,'" Altman said.
Knowles did say this – as a reference to the Epiphany, when the Three Magi visited and paid homage to the newly-born Jesus Christ. Altman should know this – his citation for the claim is the January 6, 2022 episode of Knowles's Daily Wire Show, where just 40 seconds in he explains his joke that he had carried out on Twitter for days prior.
Knowles had made a series of double entendre references to the violence at the U.S. Capitol on January 6, 2021 and the Epiphany, which is also January 6.
On January 6, we remember the wise men who traveled a great distance for their leader—the true leader of us all—defying an unjust government along the way. A glorious event!

— Michael Knowles (@michaeljknowles) January 5, 2022
The celebrations on January 6 will be wonderful, but can you imagine the blessedness of having been there when the event actually took place?

— Michael Knowles (@michaeljknowles) January 5, 2022
Altman also wrote about the pair's support for election integrity measures like banning ballot drop boxes, requiring voter ID and limiting absentee voting as proof of how the pair threaten democracy.
But it's not just the speakers who are dangerous – it's attendees who are interested in hearing what they have to say, according to the Yale freshman.
"This perspective dangerously misses the mark," Altman argues about people who may want to attend to hear the talk or even "laugh at" the speakers.
He said simply being in attendance "legitimizes Cruz and Knowles' ideas as valid positions that can, in theory, be engaged in academic debate."
Students should be scared at this prospect, Altman argues.
"It slowly defangs the terror that we should feel at their attempts to overturn a democratically elected president," he wrote. "I want you to confront the terror. Reflect on why they are scary."
The solution is to lie, he says, though not using those words. This must be done to protect democracy.
"Holding fast to democracy starts at the local level by refusing Cruz and Knowles an audience," he wrote. "You have a method of intervention: buy tickets, but don't attend. Refuse to legitimize the event."
After all, Knowles and Cruz would "sacrifice democracy" on behalf of gaining "political influence."
"Would you give Putin a platform?" Altman asks.
MORE: University disbands diversity office
IMAGE: Verdict with Ted Cruz/YouTube
Like The College Fix on Facebook / Follow us on Twitter