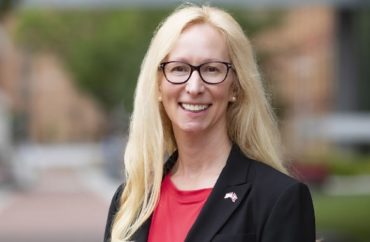 Union has been critical of university's approach to crime fighting
The new vice president of public safety at Temple University is a cause for optimism according to the union that represents campus police officers.
Jennifer Griffin is in her second week as the first vice president of public safety after being hired over the summer. She is "a longtime Delaware State Police Trooper" and "graduate of the FBI National Academy" as well as an adjunct at the University of Delaware, according to the university's news release.
"[Temple University Police Association] does believe that the hiring of Griffin is a step forward but there is still a lot of work to do," union spokesman and police officer Rossman Shaffer told The College Fix. "We're optimistic and excited to work with VP Griffin, and the rest of our police command staff to continue improving work conditions for our law enforcement and public safety professionals."
One goal for the union is to work with Griffin (pictured) on improving the mental health of officers.
"Yes, we fully support any and all Officer health and wellness initiatives that Vice President Griffin may implement," Shaffer wrote. "We look forward to working with her to support our officers the best we can. One of TUPA's Officer wellness goals going forward is to reduce Officer burnout caused by mandatory overtime."
A university spokesman told The Fix that Griffin's experience with supporting police officers helped her get hired.
MORE: Temple University parents demand more cops
Griffin's "background supporting officer wellness, and that is very important to us. It's also one of the things that led to her emerging as such an appealing candidate," Stephen Orbanek told The Fix.
"We are eager to see her implement some of the best practices that she has identified with regard to officer wellness," Orbanek said.
Temple officials and the union have made progress on prior disputes about staffing issues. The police union previously raised concerns about the lack of enough officers.
"As is the case nationwide, hiring police officers is a challenge right now. We continue to recruit and hire new officers, and we will also have new officers graduating from the academy this fall and spring," Orbanek told The Fix.
"Back in June, the University and the Temple University Police Association reached a new agreement that both sides believe will move the community forward and benefit the police, dispatchers and security officers of Campus Safety Services," he wrote in his email. "The four-year agreement includes substantial increases for police and security officers, necessary to continue to attract and retain the best officers in the current challenging environment."
"The police department has had some new patrol officer hires, but we have also lost some veteran officers to resignation that have chosen to continue their law enforcement careers elsewhere," Shaffer, the union media rep, told The College Fix. "Officer hiring and retention need to remain a high priority for the university to bolster our numbers so we can continue to provide the best public safety product for our community possible.
The university told The Fix Griffin would not be available for comment until she started on August 22. Orbanek did not return a follow-up request on Friday for comments from the new public safety vice president.
MORE: UMinn parents frustrated with crime, lack of response
IMAGE: Temple University
Like The College Fix on Facebook / Follow us on Twitter