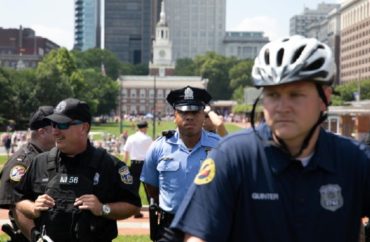 Parents ask the university to protect their kids
Parents of Temple University students want to see more cops on and around campus to address crime issues.
A group of 40 to 50 parents have communicated regularly with school officials for the past six months since someone shot and killed a 21-year-old Temple student in November.
"The city set its all-time record for homicides in 2021, with 562 deaths, and is maintaining that pace so far this year," National Public Radio reported in April. "Homicides aside, last year about 1,800 people were shot and wounded."
The parents have formed a "Rapid Response team" to advocate for greater campus safety.
The Temple News reported:
Despite many students leaving campus during the summer, the Rapid Response team plans to continue advocating for a more efficient [shuttle bus] system, walking routes with a heavier police presence near Main Campus, safety education for students and creating a list of trusted local landlords for off-campus housing, said Fadia Halma, parent of a junior political science and global studies major and a freshman communication and social influence and Spanish major.
Some businesses are interested in a partnership with the police to increase lighting on common walking routes. "Crime is bad here, but it's bad everywhere," the manager of a local pizza restaurant told the campus newspaper. "Here we need more accountability from the police officers when making arrests. I hope what they're doing works."
The parental activism occurs on the backdrop of efforts at universities in major cities across the country to boost policing.
Temple has also funded grants to area landlords to buy lighting and security cameras and promised to hire more cops.
Marquette University in Milwaukee will add security cameras and unarmed guards for increased surveillance while the University of Chicago promised to increase the policing area for its campus police.
This past summer, the Dinkytown area near the University of Minnesota witnessed a thirty-eight percent drop in crime after police flooded the area after the shooting of three students in June 2021.
MORE: Don't call it 'looting' academics say
IMAGE: Rachel Warriner/Shutterstock.com
Like The College Fix on Facebook / Follow us on Twitter