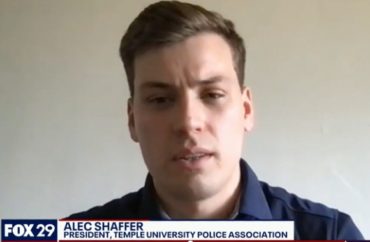 An understaffed force remains a problem
The Temple University police union says the surrounding community in Philadelphia wants to see a more proactive police force as violence continues to plague the city.
"Our community partners have expressed to us how they want more police in the area who are specifically focused on violent crime," Alec Shaffer, the president of the Temple University Police Association, told The College Fix recently via a spokesperson.
Shaffer said that staffing is an issue, as the pay for campus cops is below what other nearby law enforcement agencies pay. The Temple University Police Department has 63 officers now, 37 short of its goal of 100, according to Fox 29.
He said that the university "promised to double the police force" in November 2021, but this "has gone unfulfilled." School officials made the promise after the fatal shooting of a student.
TUPD's pay is "well below the industry average for Philadelphia AND surrounding county police agencies. Simply put, Police Officers leave for other agencies that pay a lot more."
This is the @TempleUniv patrol zone #crimemap for the past 6 months according to @PhillyPolice

6 Rapes
48 Robberies
37 Aggravated Assaults
25 Burglaries
261 Thefts

Source: https://t.co/GKabWmKJE5 pic.twitter.com/NKFVfAv6gf

— Temple University Police Association (@officialTUPA) May 31, 2022

"The City of Philadelphia and SEPTA Transit police have recently realized this and increased salaries and are considering signing bonuses," Shaffer said. "Temple has not done anything to make being a Temple Police Officer appealing."
"We believe that if we had the proper resources, such as a properly staffed police department, and a data driven ideology to policing, we can drastically cut down on violent crime in the Temple Area," Shaffer told The Fix via email.
He said "people in the Temple area will continue to be victimized at alarming rates by violent repeat offenders" until the university changes its approach. The offenders "act completely unchecked with no fear of apprehension or punishment."
Campus cops are only allowed to react to crime, which harms their ability to prevent violence.
"Nothing has been effective in reducing crime near Temple because there are no crime fighting measures in place," the police union president said. "We are strictly a reactionary force and nothing is being done to actually prevent crime."
The union has publicly asked administrators to "implement proven crime reduction methods such as Evidence-Based Policing and Precision Policing that focuses only on violent offenders, and does not over police the neighborhood."
MORE: Black UVA students not opposed to more cops on campus
The understaffing has also hurt the officers' ability to stay updated on training.
The officers have taken racial sensitivity and de-escalation training in addition to crisis response.
"Temple Police officers also attend additional training with the Philadelphia Police called (CIT) or Crisis Intervention Training," the union said. CIT "is an intensive week-long course teaching officers how to interact with individuals who are in the midst of a mental health crisis."
"We would love to do more training but we simply cannot with how low our staffing is," Shaffer told The Fix.
He said the crime situation near campus is "extremely volatile and unsafe." That includes "two mass shooting incidents so far this year"
"Gunpoint robberies and carjackings have been a problem as well. For context, TUPD responded to 48 shooting incidents in 2021 in the Temple Patrol Zones," he said. "So far in 2022, 38 people have been shot in the patrol zone, 5 fatally."
Shares advice on how to stay safe
The police union president provided advice to parents and students concerned about safety.
He said to "always be aware of your surroundings" and stay on top of crime alerts. Students should "travel in groups" and "keep phones and valuables hidden."
He said to "never be afraid to call police when you feel unsafe or to report an incident."
Students should also learn "trauma first aid" including "how to apply a tourniquet in the event of a severe bleed."
University responds
Temple responded to an inquiry from The Fix about the pay and benefits for cops and proactive policing.
A media representative shared a statement from Temple COO Ken Kaiser. The statement didn't address the question about pay.
"Safety continues to be our top priority at Temple University, and we have developed a number of new campus safety enhancements in conjunction with Campus Safety Services over the last several months," Kaiser said in his response.
He stated further:
We work closely with the Philadelphia Police Department to share information and identify ways in which we can partner to address crime in the area. The lifeblood of Campus Safety Services are our hardworking officers, and they do an excellent job under some challenging circumstances."

Every TUPD officer has a direct line to our interim director of campus safety, who I also connect with several times per week to discuss campus safety at Temple.
The university said it is trying to recruit officers and that includes nine candidates who start police academy at the end of June.
Temple is also working with the city police department for patrols. "This past weekend, patrols were slightly short-staffed because three Temple officers were completing the annual weapons training."
MORE: Chinese grad student allegedly attempted to murder California cop
IMAGE: Fox 29
Like The College Fix on Facebook / Follow us on Twitter