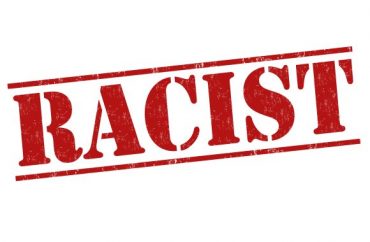 Temple University's Campus Safety Services is on alert due to stickers "promoting white nationalism and racism" being discovered around campus.
The Tab reported on the stickers four days ago, describing them as "hateful." The stickers read "#WhiteLivesMatter" and "Defending Our Heritage."
The Temple News reports the logo of a Pennsylvania "skinhead" organization was on the stickers. However, the News refuses to identify the group so as "to minimize the spread of hate speech."
The paper does note that the (hate) group's Twitter account had featured photos of the stickers, and as such it appears that group might be Keystone United, formerly known as the Keystone State Skinheads.
Temple Executive Director of Campus Safety Services Charlie Leone says campus police were alerted to the stickers Thursday by Student Government, and on Friday "detectives checked Main Campus."
Detectives!
A member of the SG tweeted images of the stickers last week:
Contact myself or @MannBarnes and we will be working to provide support via our roles in @TempleTSG pic.twitter.com/qDXMYClt2G

— Kelly Dawson (@_KellyDawson) March 24, 2017
More from the Temple News piece:
Leone wrote that TUPD has also been in contact with the Anti-Defamation League, a group that fights anti-Semitism and hate speech.

On Monday, Leone told The Temple News that TUPD is looking through surveillance footage from the past several weeks to attempt to identify the individual who placed the stickers, one of which was near the grassy area between Beury Hall and the Biology Life Sciences Building. Leone said a student removed two stickers "of their own accord, which was good."

"Our priority is to figure out who did this," he said. "If it's a student, they could be facing a [Student Code of Conduct] violation."

Whoever posted the stickers could also face charges of graffiti or vandalism, he said.
It's curious just what Code of Conduct violation would be cited if the suspect does turn out to be a student. Graffiti or vandalism sure, but are the sayings "White Lives Matter" and "Defending Our Heritage" punishable "hate" offenses?
Interestingly, the Student Government campaign Connecting TU tweeted out "These stickers prioritizes [sic] one race over another, which goes against Temple University's and our values of inclusivity and diversity."
If Temple is concerned about one race being "prioritized" over another, then why did it sponsor Black Lives Matter events, and bestow an honorary degree upon a member of the National Council of La Raza (La Raza = "The Race")?
WPHT radio's Dom Giordano raised similar questions today on his program.
Certainly, the whole premise of the Keystone group is repugnant, and its history quite sordid. But should an institution prioritize public safety resources on what is either an attention-seeking individual hoaxer, or a pariah group engaging in, at most, silly speech?
Read the full Temple News story.
MORE: Prof who said Gov. Scott Walker is like Hitler lands gig at Temple University
MORE: Minorities 'flock' to Temple a year after school drops SAT requirement
Like The College Fix on Facebook / Follow us on Twitter
IMAGE: Shutterstock