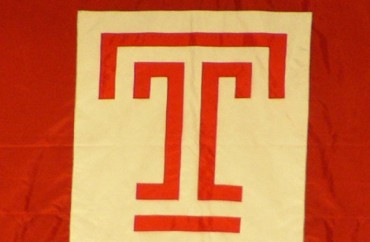 Temple University announced today that it will not punish Marc Lamont Hill for anti-Israel comments he made at the United Nations on November 28.
The professor has used the phrase "free Palestine from the river to the sea" which many consider to be a not-so-veiled call for Israel's elimination.
The Foundation for Individual Rights in Education reports that after meeting with the school's Board of Trustees Tuesday afternoon, Temple President Richard Englert released a statement noting Lamont Hill will neither be punished nor investigated for his comments.
Englert said the professor "spoke as a private citizen and his right to do so is protected by the constitution."
Temple Board Chairman Patrick O'Connor had ripped Lamont Hill two days after his UN remarks, saying the university would "look at what remedies" it could implement to deal with the matter.
On December 6, students waving Palestinian flags marched in support of Lamont Hill, chanting the phrase that got him in hot water.
Temple's "Statement Condemning the Remarks of Professor Marc Lamont Hill" explains that Hill "was not speaking on behalf of or representing the University," and that "his speech as a private individual is entitled to the same Constitutional protection of any other citizen, and that he has through subsequent statements expressly rejected anti-Semitism and anti-Semitic violence."

The Board of Trustees then issued a condemnation of Hill's remarks:

"The members of the Board of Trustees of Temple University – Of The Commonwealth System of Higher Education, in exercise of their own Constitutionally-protected right as citizens to express their views, hereby state their disappointment, displeasure, and disagreement with Professor Hill's comments, and reaffirm in the strongest possible terms the President's condemnation of all anti-Semitic, racist or incendiary language, hate speech, calls to violence, or the disparagement of any person or person based on religion, nationality, race, gender, sexual orientation or identity."
Temple Trustee Steve Charles said the school is working on a "university-wide crisis response system" for any similar controversies in the future.
MORE: Marc Lamont Hill praises cop-killing terrorist
MORE: Live by the sword …
IMAGE: sjfst17 / Flickr.com
Like The College Fix on Facebook / Follow us on Twitter