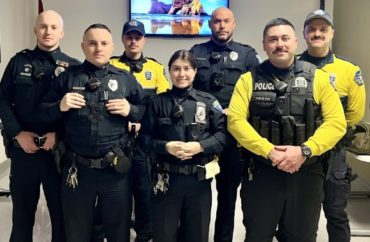 'I feel a police presence is most important and would have students feel more secure,' student says
Temple University officials are concerned about the crime problem in the surrounding Philadelphia area, but some students say more should be done.
The student government and the university recently teamed up for a town hall meeting on safety.
"I understand that a lot of you are angry," student government president Gianni Quattrocchi said to students in attendance. "I'm angry too. I think there is an obscene number of incidents taking place against students and whether it's on campus or outside of the patrol zone, it shouldn't happen."
"But I think what ultimately needs to be done is that there needs to be extensive communication surrounding these safety services," Quattrochi said.
Quattrochi declined to comment to The College Fix and university president Jason Wingard did not respond to requests for comment in the past week on the timeline for improvements and if that included adding cops. Both the Temple and Philadelphia police departments did not respond to requests for comment on the situation.
Campus officials highlighted efforts including "reviewing more than 1,000 cameras, improving lighting in certain areas and making changes to the TUalert system," according to the Temple News.
But lights and cameras are not enough.
Ethan Torri, a current student, told The Fix via social media messaging that crime has gotten worse since he started his college career.
"My sister attended Temple over 10 years ago where I was able to first see the campus and hear about the safety issues at the time," Torri said. "Comparing now to then, it is evident that there has been steps backwards and this has become a larger concern for students in recent times."
"Better lighting and cameras is certainly a step in the right direction and might ease concerns for some students," Torri said. "However I feel a police presence is most important and would have students feel more secure."
MORE: Temple University parents demand more cops
He said that "cameras and lighting" are effective after the fact. They "might help with investigation however once an incident occurs, the damage has already been done."
Similarly, student Nick Deon argued in favor of increasing police presence on campus.
"I think Temple is running out of solutions so they are trying to do more of the current method," Deon told The Fix via social media.
"As for the police situation, I suppose it shows that even though you don't want them around, once you need them, you call them," Deon said. "What Temple needs to do is increase the number of law enforcement around Temple to protect their students from any danger that presents itself."
The active policing comments reflect what Temple University's police union previously told The Fix.
The union told The Fix in June that it wants to see a proactive policing approach that uses data and more cops. "We believe that if we had the proper resources, such as a properly staffed police department, and a data driven ideology to policing, we can drastically cut down on violent crime in the Temple Area," police officer and union president Alec Shaffer told The Fix through a representative.
"Nothing has been effective in reducing crime near Temple because there are no crime fighting measures in place," the police union president said. "We are strictly a reactionary force and nothing is being done to actually prevent crime."
MORE: Students at Philly-area universities demand more campus security
IMAGE: Temple University Police Association/Twitter
Like The College Fix on Facebook / Follow us on Twitter