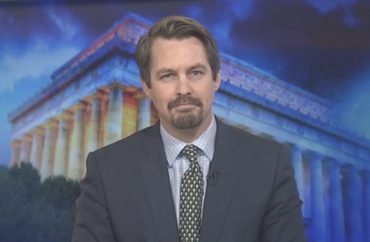 'Every nation, every city, every town, and every soul will find its good or its ruin around an image held sacred'
A Catholic University of America theology professor argued that there are two choices for individuals to make in June – choose to embrace the deadliest sin of pride or choose Christ.
June represents a "a fundamental contrast between two cities," Professor C.C. Pecknold wrote on Wednesday in The Postliberal Order. The St. Augustine scholar draws an analogy between June and one of the saint's famous work titled "The City of God."
The community formed by the embrace of the alphabet agenda "is vicious and tyrannical" which represents the "city of man." This is seen in the flying of the rainbow flag outside the U.S. embassy in Vatican City.
The "city of man," as Pecknold (pictured) explains, "actually deprives people of their own proper good, and blinds them to the ends which would elevate them in the way of goodness and happiness."
People who want to pursue their own good would be wise to choose a different path, Pecknold argues.
"The contrast with how the Catholic Church celebrates the month of June could not be starker — or more jarring," he wrote. "The contrast is that Catholics celebrate the Most Sacred Heart of Jesus in the month of June. This is a devotion which goes to the very heart of Christianity, and one can find many Fathers of the Early Church reflect on the heart of Jesus."
Sadly, not even Catholic universities are guaranteed to choose the city of God.
My alma mater boasted of its support of "Pride Month."
#LoyolaChicago is proud to recognize & celebrate Lesbian, Gay, Bisexual, Transgender, & Queer (LGBTQ+) #Pride Month. Pride Month celebrates equity, visibility, & self-affirmation for LGBTQ+ Americans & recognizes the impact LGBTQ+ individuals have had on history. pic.twitter.com/7XrK1JTM7H

— Loyola University Chicago (@LoyolaChicago) June 1, 2022
As I wrote last year in June, Catholic universities "should encourage celibacy and offer prayer for those who are struggling with same-sex attraction."
Individuals have a choice which image they hold sacred.
"Every nation, every city, every town, and every soul will find its good or its ruin around an image held sacred," Pecknold argued.
MORE: Catholic university bans speaker due to 'derogatory' gender comments
IMAGE: EWTN/YouTube
Like The College Fix on Facebook / Follow us on Twitter