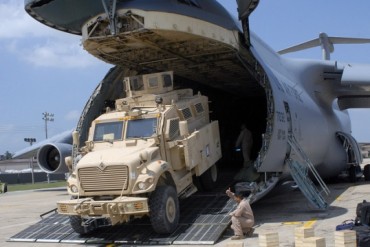 While some universities, in attempts to keep a lookout for lone-wolf shooters, have spent millions of dollars on a vast array of campus security cameras, other campuses have considerably beefed up their police force tools with urban-warfare tanks—in effect creating little armies.
Ohio State University and Columbia, Mo., home of the University of Missouri, are two such examples.
The Daily Caller reported that the Ohio State University campus police recently obtained what appears to be a Mine-Resistant Ambush-Protected (MRAP) vehicle to add to their security detail. Critics of campus security ask why such a tank-like vehicle, built primarily for urban warfare, would ever be needed in a small college town, let alone on a campus.
The massive vehicle is capable of holding 10 passengers within its bulky frame. It is also armed with a turret, gun ports and a battering ram for those hard-to-get-into dorm rooms. Needless to say, that is a lot of artillery for a small town police department tasked with the unenviable job of corralling young college students.
Not to be outdone, Columbia, Mo.—a small town compared to most other expansive cities with large SWAT forces–picked up its own $200,000, ground-pounding behemoth this past April. The vehicle is called a "Bearcat" which is an acronym for "Ballistic Engineered Armored Response Counter Attack Truck."
To that point, universities and college towns are, under the guise of safety, taking security several steps further, opting to step up the full militarization of their police forces; it remains to be seen whether or not the increasing militarization of the police is an effective tool to use to combat episodic shooting tragedies.
The Daily Caller contacted OSU media director Gary Lewis who bragged that "OSU's campus cops are the first agency in the state to acquire such a vehicle."
The vehicle may be used for officer rescues, hostage scenarios, bomb evaluations or campus shootings, according to campus officials.
After Lewis' comments, and Reason Magazine's investigations on the story, OSU and its PR department shut out all media inquiries, admitting to reporters only that the university has borrowed other law enforcement vehicles in the past. The admission appears to contradict Lewis' claim that the OSU campus police were the first in the state to own an urban assault vehicle.
In the same vein, Lt. Geoff Jones of Columbia, Mo., SWAT told The Fix that the Bearcat was meant to replace the police department's older armored response vehicle that had become aged and worn-out. "The vehicle needed to be replaced," Jones said. He refused to justify why the police department needed an armored vehicle at all, only saying that it can be used in hostage situations and to break up riots.
As if the "Bearcat" was not enough to keep the crime in check, the Columbia city council in early September filled out a purchase order for more than 40 M4 Semi-Automatic rifles and a set of 25 night vision goggles, according to City Council documents. Again, the purchasing of the rifles and an armored vehicle prompted some to question the city council's decision to arm to the teeth the city's police department.
After the 2007 Texas Tech shootings, many universities have acted quickly, and, some say, too hastily to protect their students from episodic acts of violence—forgetting that schools are schools, not warzones.
One of the most outspoken critics of the militarization of all police forces, not just campus police departments, is former Reason Magazine editor Radley Balko.
Balko told The Fix that "schools and police officials will cite Virginia Tech or Columbine as reason for needing SWAT teams or armored vehicles, but the average campus can expect to see a homicide once every several thousand years." Moreover, Balko said, once these Columbine/VT incidents do not transpire, which they rarely ever do, they then can use these militaristic vehicles for more mundane purposes.
In short, police departments appear to use the public's fear of lone shooters as a way to acquire armored toys.
Fix contributor Christopher White is a University of Missouri graduate student, an editorial assistant for The College Fix, and Missouri state chairman of Young Americans for Liberty. He may be reached at [email protected]
Click here to Like The College Fix on Facebook  /  Twitter: @CollegeFix
IMAGE: PACOM/Flickr