It was dubbed the greatest threat to American democracy since the Civil War. It was more devastating than September 11, 2001.
They were taking about January 6, 2021, of course. And, of course, the comparisons are ludicrous.
(I mean, heck, why not go further? How about "January 6 was more destructive than the Tsar Bomba"? Or "January 6 was on par with the Big Bang"?)
While most of the hyperbole came (and comes) from politicians, the academic set certainly couldn't be left out. It claimed the Capitol storming was about "protecting a racist order," a "case study in white privilege" and said Donald Trump could even be charged with manslaughter.
Now a Harvard law professor is doing his very best to keep that January 6 narrative alive — and even take it up a notch or two.
Alan Jenkins, who unsurprisingly teaches classes on "race and the law" and founded a "social justice communication lab," has co-authored a "What If?"-style graphic novel about the 1/6 "insurrection" being successful.
Er, creatively titled "1/6: The Graphic Novel," Jenkins, along with The New York Times' Gan Golan and artist Will Rosado, shows "how close we came to authoritarian rule and demonstrate how strategic disinformation, white supremacy, and cynical political ambition convinced millions of ordinary Americans to reject cherished constitutional values and support violent sedition."
Naturally, CNN was thrilled to have Jenkins on late last week to talk about it:
"Our democracy remains at risk. A comic book seems like a good way to reach a large audience with that message… We sent copies to 150 election deniers in Congress. They can see the implications of what they tried to do."

Harvard Law Prof. Alan Jenkins on his new 1/6 book: pic.twitter.com/B8fswYHUtf

— CNN This Morning (@CNNThisMorning) May 5, 2023
And how cute was this: Copies of the book were sent to "more than 150 members of congress this week who denied the 2020 election results, confronting them with the gravity of their effort to undermine our democracy by refusing to certify the election of Joe Biden."
MORE: Harvard study: Trump supporters participated in Jan. 6 because … they supported Trump
A copy also was sent to Florida Gov. Ron DeSantis who, according to the creators, "has acted to ban books with which he disagrees."
(Just don't be RACIST and ask the creators about the numerous Democrats who have questioned election results when a Republican has won the presidency — including Trump — and how Democrats and the current administration colluded with social media companies to ban speech with which they disagreed.)
Gasp in horror at the Capitol dome — draped in a "Trump" banner!! Scream in disgust at Confederate flags — flying not only on the Capitol but also at the Lincoln Memorial!!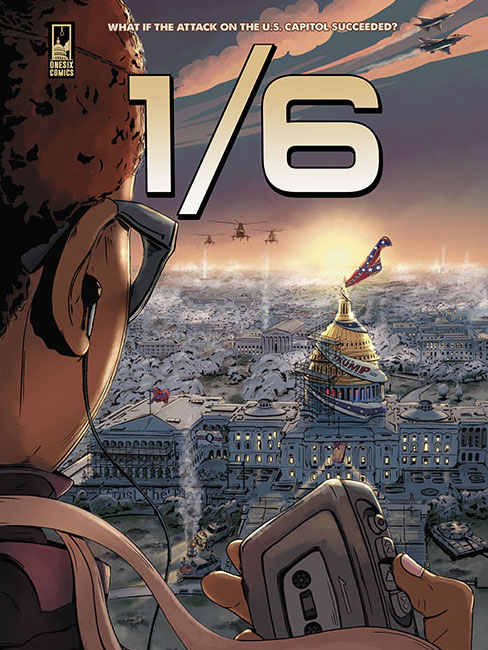 Jenkins said "There's a long tradition of comic book creators taking on real-world social issues and, especially, fascism and white supremacy. Captain America's first appearance was socking Adolf Hitler in the jaw (several months before the U.S. entered WWII). Superman fought the Ku Klux Klan in the 1940s, as did the Black Panther and other superheroes after him. It seems natural that our story's heroes are fighting modern-day extremism, bigotry, and political violence."
Get it? Hitler! The KKK! And now … January 6th!!!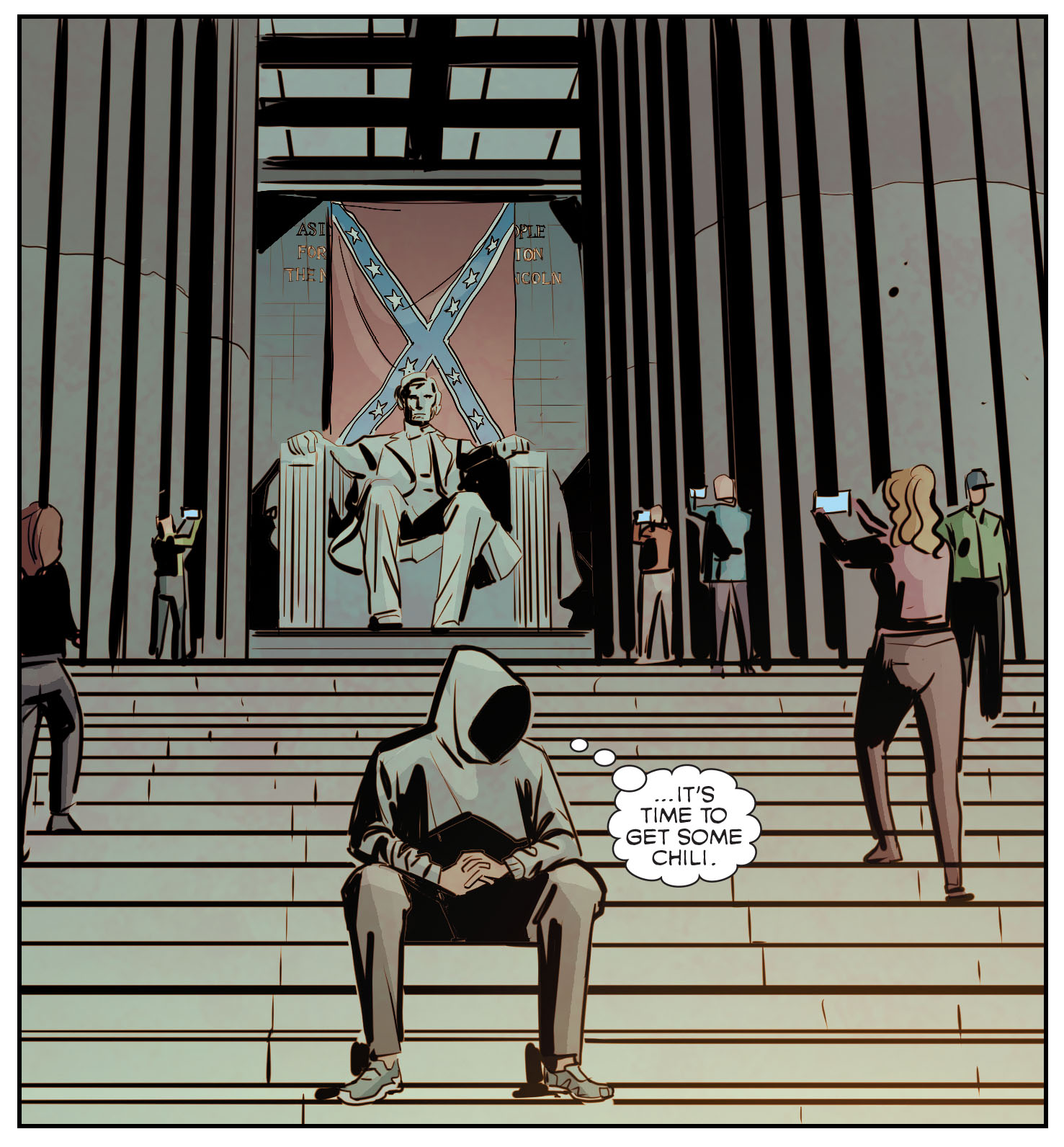 Captain America also fought Communists post-WWII and into the 1950s; however, since superhero comics weren't popular in the '50s, Cap's adventures in that decade were canceled. Stan Lee and Jack Kirby brought the hero back in 1964 to join the Avengers, explaining that at the very end of WWII he'd been thrown into an ice floe and frozen.
But then, how to explain Cap's adventures against the Commies in the 1950s? In the early 1970s, writer Steve Englehart explained it all in a three-issue arc which showed the 1950s Cap actually was an academic named William Burnside. Burnside had stumbled upon the Nazis' (get it?) attempt at creating the same Super Soldier serum that made Steve Rogers Capt. America.
The problem was that the formula wasn't complete, so Burnside and sidekick Jack Monroe (the new "Bucky") suffered severe mental side effects after taking it. They eventually turned into super-powered Joe McCarthys who saw "Commies" everywhere, including among New York City's Harlem population (get it?).
A decade-or-so later, Steve Rogers was replaced as Capt. America again, and guess what — the new guy also was far-right guy shown to have mental issues. Get it? Talk about your narrative.
Speaking of which, Professor Jenkins and Golan previously had collaborated on another comic, "Helvetika Bold," which comes off like bad science fiction-message board fan fiction. The opening splash page features the villain exclaiming — ironically — "THE DOMINANT NARRATIVE!" but he's referring to (hilariously bad) stereotypes of Republicans and conservatives … crap like "I love legal immigrants … it's just those Hispanic ones I can't stand!"
Get it?
MORE: Students sue for 'adequate' civics education; claim Jan. 6 was result of lack thereof
IMAGES: One Six Comics/Twitter screencaps; Bleeding Fool screencap
Like The College Fix on Facebook / Follow us on Twitter