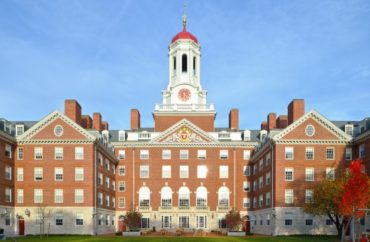 The Wall Street Journal recently announced college rankings for universities across the nation, giving the top five spots to Harvard, Stanford, MIT, Yale and Duke universities.
These elite institutions topped the list of 600 colleges and universities.
These are familiar names to the top-ranked spots. The Journal reports that they represent "schools with the spending power to cope with the falling revenues and rising costs many have experienced as a result of the pandemic."
These rankings reveal the disconnect between prestigious institutions and those without sufficient funding to have gotten them through the pandemic. Reigning for five consecutive years, it remains to be seen when Harvard will fall from being the nation's top-ranked university.
The newspaper uses four main categories to determine its annual rankings: resources (30%), outcomes (40%), engagement (20%) and environment (10%).
Resources are defined by measuring the finances per student, the faculty-to-student ratio, and the number of research papers per faculty.
"Of the top 20 schools overall, all but two also rank in the top 20 for academic resources; the other two are ranked 21st and 26th for resources," the Journal notes.
Outcomes, the largest determining factor in a school ranking, accounts for the academic credibility of the institution, graduation rate, and debt incurred after graduation.
Engagement refers to the student experience on campus, from how much they interact with faculty to the number of accredited programs they offer. This category is mostly based on student responses to survey questions about their opportunities on campus.
Finally, the environment measures the diversity of students on campus, looking at the number of racial, international and economic minorities both in the faculty and student populations.
The Wall Street Journal decided for all self-reported metrics it would be unreasonable due to the pandemic to ask professors to re-survey students. This means that all metrics measured by student data in this 2022 round use the averages from two years of data to determine the newest numbers.
No school in the top 20 ranked above 40th in the environment category, which measured diversity. In the reverse, when ranked for the environment, no school in the top 12 (including a 5-way tie for eighth) placed higher than 87th in the overall rankings.
Rounding out the Top Ten list, in places sixth through tenth, respectively, are: Brown University, California Institute of Technology, Princeton University, Johns Hopkins University and Northwestern University.
The rest of the Ivy League universities made the Top 20: Cornell (11), University of Pennsylvania (12), Dartmouth College (13), and Columbia University (16).
The University of Chicago, known for its pro-free speech policies, ranked 14th.
MORE: Overwhelming majority of college students say shouting down a speaker is acceptable: survey
Like The College Fix on Facebook / Follow us on Twitter