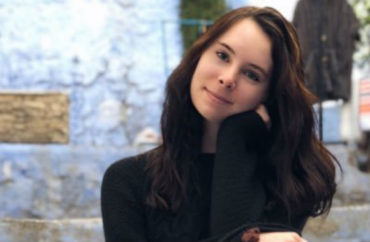 Also 'advocating for me to get fired and expelled'
A Wake Forest University student has received death threats and been called a "Nazi" on Twitter for mocking the university's outsized response to a "build a wall" joke on Instagram.
Other Twitter users "called my employer and my school, found my Facebook and LinkedIn accounts, reported my twitter [for violation of terms], and have actively been advocating for me to get fired and expelled," Jordan Lancaster told The College Fix in a Twitter message.
Lancaster expressed an unpopular view about Wake Forest's decision to investigate the "deeply offensive" image for a fake student government campaign.
The image said the non-candidate "wants to build a wall" between the university and its crosstown rival Winston-Salem State University, which is historically black. "And he'll make them pay for it."
Lancaster posted President Nathan Hatch's email about the Instagram post and said Wake Forest overreacted "because a kid made a post on Instagram as a joke."
Since the university's email to the community didn't share the content of the parody, she provided it. "That's it. That's the 'extremely offensive' post," Lancaster wrote. "Ppl in college need to grow up."
This email was sent to everyone at my school because a kid made a post on Instagram as a joke saying his platform for student body president was to "build a wall" between us and our rival school.

That's it. That's the "extremely offensive" post. Ppl in college need to grow up pic.twitter.com/FlwzbEAiHD

— Jordan Lancaster (@jordylancaster) March 23, 2019
MORE: Student in cowboy outfit causes racial angst at Wake Forest
Lancaster, who is studying abroad in Spain this semester, told The Fix in a WhatsApp message that she has heard from one Wake Forest official since she started receiving online abuse, but the university hasn't told her if it's investigating.
Winston-Salem State, however, has pledged to follow up on a report about one of its alleged students who tweeted about Lancaster, according to an email obtained by The Fix. A spokesperson for WSSU told The Fix in an email Thursday night he couldn't respond after office hours.
Wake Forest media relations has not responded to Fix emails all week, first to ask for the basis of the Instagram investigation and then to inquire about any support it's offering Lancaster and potential investigation into her harassment. It did not return a call Thursday afternoon.
'Historically, witch hunts haven't gone well in places named Salem'
When he announced the dean of student's office was investigating the fake campaign flier, President Hatch acknowledged it might have been a parody. "The impact on the community is widespread and harmful, regardless of the original intent," however.
"The caption [on the image of the student] remains an example of white supremacy and those who ARE responsible must continue to be investigated," the anonymous Wake Forest University Anti-Racism Coalition tweeted.
But the Foundation for Individual Rights in Education mocked the university in even harsher terms than Lancaster.
The group made public its Thursday letter to Hatch that argues the university "cannot mount investigations into student expression that the university purports to protect."
Investigating students for "miscalculated parodies on the internet" not only undermines the "several guarantees of freedom of expression" by Wake Forest, but "squanders administrative resources in order to placate a digital mob," wrote Adam Goldstein, program officer in the Individual Rights Defense Program, in a FIRE statement Thursday.
No one believes the Instagram post was conduct, as opposed to satire, Goldstein wrote: "no one has found a cache of bricks and cement, or a hastily-scrawled blueprint showing stacked bricks on one side and frowning students on the other."
He asked rhetorically: "Does Wake Forest know that, historically, witch hunts haven't gone well in places named Salem?"
The response to her offhand comment on Twitter has been no laughing matter for Lancaster, however.
She posted a Twitter thread with "a few of the hundreds of responses" she got from her original tweet. Many included threats to kill or use violence against her.
MORE: Wake Forest launches investigation into 'build the wall' parody
— Jordan Lancaster (@jordylancaster) March 24, 2019
One account told Lancaster: "Baby delete this. Because by 1:00pm yo head gone off yo shoulders if you keep talking. #WSSU is not to be played with."
Others called for people to report Lancaster's Twitter page, to find her LinkedIn information so they can call her future employers, and asked her what dorm she stayed in. One person said Lancaster needed to "sit in your white ass privilege & stfu."
The barrage of threats led Lancaster to permanently delete her Facebook account. She also deactivated her Twitter account for a couple of days but reactivated it Wednesday night.
She told The Fix she had to step away from social media for "the sake of my mental health." Previous backlash she's received on Twitter was "nowhere near the level" she got on her WSSU post.
"I knew the best thing to do in those situations is to remove yourself to let the hype die down for a bit," Lancaster said.
On her original post, Lancaster responded to another person: "I love wake and I'm lucky to go there but this oversensitivity is getting ridiculous."
'When do you plan on bringing that ass back'
While the university was quick to promise an investigation into the source of the Instagram post, its response to Lancaster's harassment has been less clear.
Lancaster showed The Fix an email from Annie Carper, assistant dean of students, that asked the student "how you are doing in the aftermath of some of the [menacing] tweets" she had received.
Carper (below) is listed as the point person for the Campus Assessment, Response, and Evaluation team at Wake Forest. Lancaster told The Fix the CARE team "helps students dealing with situations that impact their mental health."
MORE: Wake Forest bias response team ignores harassment of conservative
The official offered to find a time to talk to Lancaster about the situation even while she's abroad. "I can imagine that it is overwhelming and scary, and certainly distracting from your study abroad experience," Carper wrote.
Lancaster told The Fix she is not taking action against anybody "because it's all been really overwhelming," but she has also not been contacted by the university for any potential investigation.
One of Lancaster's friends reported a tweet by an apparent Winston-Salem State student to that university's director of interpersonal violence prevention, Patricia Eaddy.
The friend, who is not a WSSU student, shared the email and Eaddy's response with The Fix on the condition of anonymity. It cited the tweet shared by Lancaster that warned her "yo head gone off yo shoulders if you keep talking," which her friend told Eaddy was a "death threat" intended to "instill fear into the target."
The friend embedded both the tweet and two public photos of the apparent WSSU student, as well as WSSU's student code of conduct. The student's tweet about Lancaster violates this code and "could warrant police action," the friend told Eaddy.
A second email from the friend to Eaddy showed tweets directed at Lancaster by a self-described WSSU alumna. "[Y]ou do clownery, the clown will come back to bite, nigger," one tweet read. Another tweet asked "When do you plan on bringing that ass back" from Spain.
Eaddy responded by saying she was "in the process of following up" but has yet to provide more details.
MORE: Wake Forest faculty fail to kill Koch-sponsored academic center
IMAGES: Jordan Lancaster/Twitter, Annie Carper/LinkedIn
Like The College Fix on Facebook / Follow us on Twitter