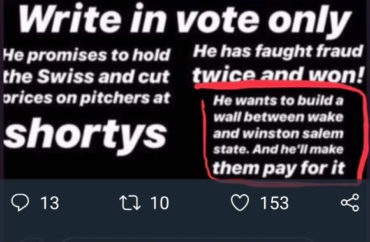 It already bans 'any action that annoys or disturbs another person'
Taunting your cross-town rival is a time-honored college tradition. But beware if your rival is historically black.
Wake Forest University is investigating an Instagram post that its own president describes as a possible "parody."
The Friday post says a student government candidate for president "wants to build a wall between Wake and Winston-Salem State and he'll make them pay for it."
The Winston-Salem Journal describes it as "racist" without offering any evidence or providing context for the rivalry between the private university and the HBCU. The New York Times also put the word "racist" in its headline on an Associated Press story referencing the Journal report.
The student identified in the post is not running for president and had nothing to do with the posting of the image, Wake Forest President Nathan Hatch wrote in his tweet.
MORE: The best state for campus free speech is … North Carolina?
I am deeply troubled by this incident & have called @WSSURAMS Chancellor @ElwoodRobinson to express my concern. The message disparaged an institution whose values and mission we embrace & with whom we are building increased collaboration that brings our communities together. pic.twitter.com/rPvBZCdabR

— Nathan O. Hatch (@PresidentHatch) March 23, 2019
The Instagram post (below, from Twitter), which repurposes President Trump's famous campaign chant about the southern U.S. border, "disparaged an institution whose values and mission we embrace & with whom we are building increased collaboration that brings our communities together," Hatch wrote. He said he's reached out to WSSU Chancellor Elwood Robinson to "express my concern."
Using the same language as other universities that deem parody or satire a punishable offense even when it has no specific victim, Hatch's longer statement said the "impact on the community is widespread and harmful," even though the post "may have been a parody of a national issue."
The university is "gathering details about this incident" through a team investigation led by Dean of Students Adam Goldstein. Hatch thanked "the students who called the post to our attention through the bias reporting system" as well as students, faculty and staff "who have shared their personal experiences with me."
MORE: Bias response teams not considered speech threat by UNC System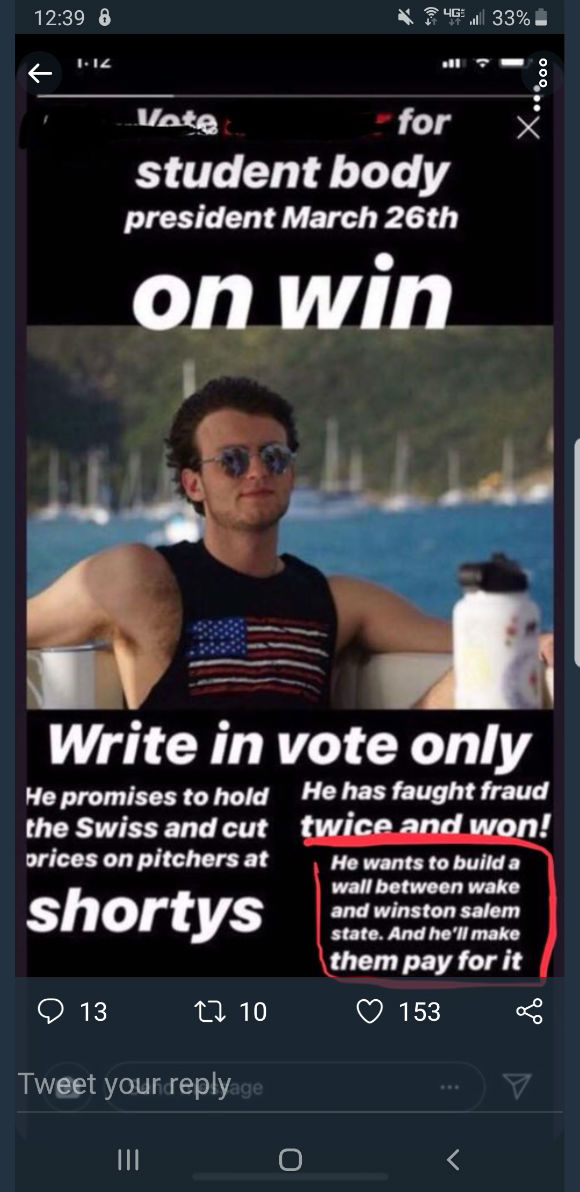 This email was sent to everyone at my school because a kid made a post on Instagram as a joke saying his platform for student body president was to "build a wall" between us and our rival school.

That's it. That's the "extremely offensive" post. Ppl in college need to grow up pic.twitter.com/FlwzbEAiHD

— Jordan Lancaster (@jordylancaster) March 23, 2019
The Wake Forest Anti-Racism Coalition, which claims black students today have the same problems as those first admitted to the university five decades ago, denounced Hatch for even acknowledging the Instagram post was possibly a parody.
The anonymous group, which demands "zero tolerance" for undefined "white supremacy," called the post a "racist dog whistle deployed to embolden white supremacy. The author of the post knew what they were doing. Call racism by its name."
It belatedly acknowledged the purported student government candidate had "nothing to do with the messaging attached."
ARC has been made aware that the individual in the photo had nothing to do with the messaging attached. However, the caption remains an example of white supremacy and those who ARE responsible must continue to be investigated by @WakeForest #wfuzerotolerance #whiteforest1834

— Wake Forest University Anti-Racism Coalition (@wfuarc) March 23, 2019
Wake Forest media relations has yet to respond to a College Fix query asking for the basis of the investigation into the Instagram post; whether any university policy makes parody a disciplinary offense, and if so, which section of which specific code that is made available to students; and whether it's concerned that this investigation into speech the university may contractually protect could chill student expression.
The private university earns a "red light" rating from the Foundation for Individual Rights in Education. It has two policies that "clearly and substantially" restrict freedom of speech.
The student code of conduct prohibits "profane or derogatory language" against others, as well as "any action, verbal or nonverbal, that annoys or disturbs another person." Another policy only appears to cover on-campus postings, but Wake Forest may have stretched it to include social media: it bans "signs/posters/flyers" that are not in "good taste."
If punished or subject to a lengthy investigation, the person or people behind the Instagram post could theoretically sue Wake Forest for breach of contract.
Its "statement on expression" promises students "the right to openly dissent and to speak, write, listen, challenge, protest, and learn," even when "the vibrant exchange of ideas may become contentious." The statement goes on to circumscribe that promise, however: Students are prohibited from "behavior that diminishes a person's or group's dignity."
Read the Journal report, and follow Hatch and the coalition on Twitter.
MORE: WFU coalition issues demands in response to campus 'anti-blackness'
IMAGE: Twitter screenshot
Like The College Fix on Facebook / Follow us on Twitter