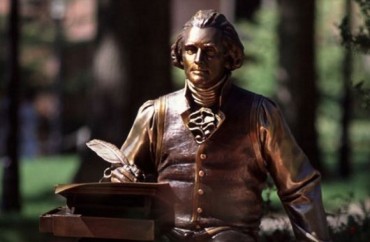 A group of students at Columbia University called "Mobilized African Diaspora," or MAD, recently held a demonstration against the Thomas Jefferson statue on campus, saying it's "a symbol of violence against black and brown bodies."
The group covered the 103-year-old statue, a gift from the estate of Joseph Pulitzer that sits outside the School of Journalism, with a Ku Klux Klan hood in a symbolic protest gesture, according to a photo MAD posted on its Facebook page.
The group said in announcing the action April 16 that "we are holding Columbia University accountable for consenting to Thomas Jefferson's lifelong vendetta against Black people."
"By portraying him as a klansman, a direct representation of the ideals he believed in, we are contextualizing his racist and sexist legacy. Only when Jefferson's face is hidden in this manner can the sinister reality of his actions and legacy be realized," the group stated in an online post. "Naturally, the University removed the display after half an hour, thus continuing its tradition of silencing Black voices."
As part of the protest, students stood around the 14-foot statue they'd covered with the white hood while holding signs stating "Jefferson's 'Pests of Society' are Columbia's tokens of diversity" and "Columbia is always has been anti-black."
The group describes itself as "organizing against racism and structural oppression" on its Facebook page.
Its online complaint against Jefferson states that "venerating Thomas validates rape, sexual violence, and racism on this campus. Until Columbia and its administration acknowledges and addresses the implications of this statue, they fail to provide the safe and inclusive environment that is promised in the university's official diversity statement. By commemorating the legacy of a man who dismissed the humanity of all Black people, Columbia continues to position itself as an anti-Black institution that upholds hypocrisy and white supremacy."
MAD has no public members and launched last year when it issued an ultimatum demanding that Columbia hire more faculty of color and other diversity efforts, Campus Reform reports.
MORE: Students demand Thomas Jefferson statue removed from university, call him 'racist rapist'
Like The College Fix on Facebook / Follow us on Twitter