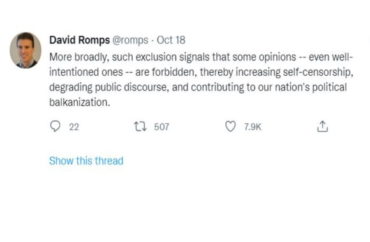 'Excluding people because of their political and social views … reduces the opportunities for learning and collaboration'
The director of the Berkeley Atmospheric Sciences Center is stepping down from his leadership post in an apparent protest against cancel culture in higher education and the academy's growing intolerance of viewpoint diversity.
UC Berkeley Professor David Romps explained his reasoning in a lengthy Twitter thread posted Monday, citing MIT's recent decision to cancel a guest lecture because of the invited scientist's political views.
Dorian Abbot, associate professor of geophysical sciences at the University of Chicago, had been scheduled to give the John Carlson Lecture in the Department of Earth, Atmospheric and Planetary Sciences at MIT on October 21, but the department canceled the lecture due to Abbot's criticism of diversity, equity and inclusion.
Abbot has proposed an alternative framework to DEI called Merit, Fairness and Equality, which would treat applicants "as individuals and evaluated through a rigorous and unbiased process based on their merit and qualifications alone."
But Abbot was set to speak on climate change issues at the MIT lecture.
Romps tweeted that, in response to MIT canceling the guest lecture, he asked the Berkeley Atmospheric Sciences Center faculty to give Abbot a platform "to hear the science talk he had prepared and, by extending the invitation now, reaffirm that BASC is a purely scientific organization, not a political one."
Abbot had, in fact, given a guest lecture at Berkeley in the past.
"In the ensuing discussion among the BASC faculty, it became unclear to me whether we could invite that scientist ever again, let alone now," Romps tweeted.
I am resigning as Director of the Berkeley Atmospheric Sciences Center (BASC) @BerkeleyAtmo. To reduce the odds of being mischaracterized, I want to explain my decision here.

— David Romps (@romps) October 18, 2021
"I was hoping we could agree that BASC does not consider an individual's political or social opinions when selecting speakers for its events, except for cases in which the opinions give a reasonable expectation that members of our community would be treated with disrespect."
Romps added that "it is unclear when or if we might reach agreement on this point," adding:
Excluding people because of their political and social views diminishes the pool of scientists with which members of BASC can interact and reduces the opportunities for learning and collaboration.

More broadly, such exclusion signals that some opinions — even well-intentioned ones — are forbidden, thereby increasing self-censorship, degrading public discourse, and contributing to our nation's political balkanization.
Prior to Romps' resignation, Princeton University stepped in to remotely host Abbot's lecture on the same day he was set to give it at MIT — and thousands have registered to attend it, the New York Post reports.
Romps is a professor in UC Berkeley's Department of Earth and Planetary Science.
ALERT: Check out our new Campus Cancel Culture Database!
IMAGE: Twitter screenshot
Like The College Fix on Facebook / Follow us on Twitter