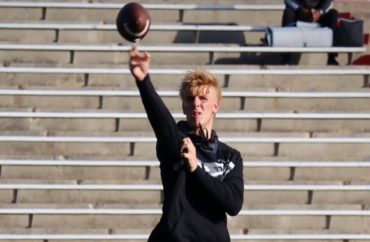 Almost a year ago I noted how allegedly transformational programs such as "restorative justice" don't really apply to conservatives, cops and white people in general.
This is because, like most progressive ideas, they're inherently political and ultimately defined by degrees of historical and societal "power."
The latest victim of this double standard is Marcus Stokes, who was a highly sought-after quarterback prospect until a video of him singing along to a rap song — which included the n-word (ending in "a") — surfaced and went viral.
Stokes had turned down an offer from college football powerhouse Penn State to play for the University of Florida, but the latter rescinded its scholarship offer to Stokes because of the video.
Eventually, the head coach at the historically black Albany State University gave Stokes an offer, but that fell apart allegedly when school president Marion Ross Fedrick found out about it. This led to coach Quinn Gray putting out an apology.
Consider again what Stokes' "crime" was: He was singing along to a rap song and said the n-word (ending in "a") … which was part of the song. He didn't call anyone the word or use it maliciously in a general manner.
In Albany State's defense, unlike so many other institutions of higher learning it doesn't appear there's a single part of its campus related to restorative justice/practices. Indeed, its student code of conduct includes a section on zero tolerance — "violations that endanger students or may cause harm to the campus community." While it may be a stretch to claim the Stokes incident caused "harm to the campus community," zero tolerance policies are supposed to be anathema to progressives.
MORE: 'Restorative justice': Whites, conservatives, police need not apply
Indeed, Coach Gray in his apology noted he didn't meet the school's expectations of "excellence." (Interestingly however, President Fedrick appears to agree that just being "aight" is sufficient):

The University of Florida, on the other hand, does use restorative justice which it notes is "a different philosophical look at crimes and violations of rules, with the focus being on the community and repair of harm to the community" and doesn't "simply punish the offender."
Why didn't UF make use of restorative justice in Stokes' case? One columnist asked if a "teaching opportunity" had been missed with Stokes — which is exactly what restorative justice is supposed to be about. The columnist did, however, support Albany State's decision, saying there "was probably no way Stokes would've ever been accepted in an HBCU locker room after using that racial slur."
I emailed Coach Gray and Albany State Director of Athletics Tony Duckworth asking if Gray's original intention was to give Stokes a second chance, such that it is. Neither responded.
As of February 1, Stokes signed with West Florida University.
MORE: White students who make racist puns are exempt from 'restorative justice'
IMAGE: Zach Goodall / Twitter screencap
Like The College Fix on Facebook / Follow us on Twitter