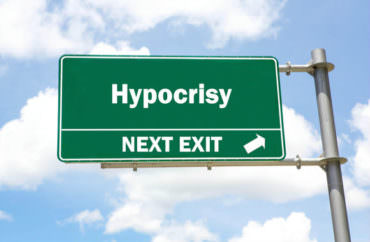 I've often noted how one of the latest educational fads du jour, so-called "restorative justice," is more and more supplanting traditional methods of school discipline such as detentions and suspensions.
Restorative justice's purpose is to keep students in an educational setting, and to talk about their (mis)behavior in an attempt to nip whatever ails them in the bud. It's a good idea for lower-level student infractions (if utilized properly); however, of course, school and central office administrators have been using the practice for more egregious discipline issues, even violent ones. Because it makes the numbers "look better."
This aside, you'd think a teenage student making a tasteless — and racist — joke about a prom proposal would be just the sort of thing for which restorative justice was made, right?
Nope.
Look at what occurred at the Leander Independent School District in Texas a couple of months ago: A (white) student posted his prom proposal on Snapchat which read "If I was black I'd be picking cotton, but I'm white so I'm picking U 4 prom."
Vandegrift High School Principal Charlie Little informed the school community of the incident as soon as he found out about it:
We do not tolerate or permit discrimination or hate speech of any kind at Vandegrift. A preliminary investigation suggests the student intended the posting to be a humorous reenactment of a 2018 meme that garnered national attention. There is absolutely nothing humorous about slavery, and its use in this context goes against the values and ethical principles we teach.
Little noted the student did not intend any harassment, bullying, or discrimination, but said the school would "continue to address the extensive concern this post caused our students, teachers, staff and families," and that the student would face "appropriate discipline."
This was not sufficient for a local college student and member of the Austin Human Rights Commission. Jared Breckenridge attended the school board meeting that month and engaged in a silent protest by holding up a sign with bright neon-green letters: "A slavery pun? I'm sorry, slavery was/is not a joke! I demand action against the student and the principal."
Terry Barksdale, a member of Austin Community College's Office of Equity & Inclusion, also protested the "promposal" incident and Principal Little's response noting the "student was not suspended and no significant disciplinary action was taken."
At this month's board meeting, Breckinridge was back, this time alleging Little's response was "dismissive" and "impassive." Others said it was "unacceptable," "minimizing," and "glossed over" the matter. Breckinridge was joined by others in alleging that the promposal controversy is "a symptom of a greater problem" in the district. Ms. Barksdale complained there "were no announcements of any systemic changes or advancement being made" in the wake of the incident. Two students recounted racial incidents during their years in district schools.
A group of parents came up with — wait for it! — a set of demands to deal with the district's "problem" with racism, which includes mandatory diversity training for all district staff "on a regular basis," and making equity and inclusion a "main focus" of the search for the district's next superintendent.
But back to main question: Why isn't restorative justice sufficient for this young gent? What he did wasn't violent, wasn't intended as harassing, etc. after administrators looked into it, and his promposal wasn't even done on school property. His behavior was offensive, yes; however, offensive behavior is something in which teenagers routinely engage. And that's behavior for which restorative practices were created.
But some things just cannot be forgiven, it seems …
MORE: Harvard revokes offer to Parkland survivor Kyle Kashuv over past remarks
MORE: Racial politics is killing public schools
IMAGE: northallertonman / Shutterstock.com
Like The College Fix on Facebook / Follow us on Twitter