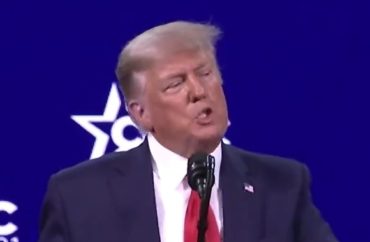 Calls it 'a scandal of the highest order'
Former President Donald Trump criticized President Joe Biden for failing to push for a reopening of the schools. Trump made his comments during a speech Sunday at the Conservative Political Action Conference.
"I call on Joe Biden to get the schools open and get them open now," Trump said during his speech.
Trump said the White House is championing its efforts to provide education to children of illegal immigrants, while American students are kept out of in-person learning.
"The Biden administration is actually bragging about the classroom education they are providing to migrant children on the border," Trump said. Meanwhile, "millions of American children are having their futures destroyed by Joe Biden's anti-science school closures."
"There's no reason whatsoever why the vast majority of young Americans should not be back in school immediately," Trump said. He accused Biden and the Democrats of "cheating the next generation of Americans out of the future that they deserve."
Trump said Biden "has shamefully betrayed America's youth" and he "is cruelly keeping our children locked in their homes."
The failure to reopen the schools is "a scandal of the highest order and one of the most craven acts by any president in our lifetimes."
The former president said that Biden has allowed the teacher unions to set his agenda and keep many schools closed.
"It's the teacher's union, it's the votes and it shouldn't happen," Trump said.
Trump pushed to reopen schools
As president, the Trump Administration urged schools to reopen.
The Trump Administration authorized "emergency scholarships" for students who were shut out of in-person learning through their local public school. Additionally, Robert Redfield, his CDC director pushed for schools to reopen and said it was in the 'public health interest.'
However, the Biden Administration has not been as willing to urge teachers to return to in-person teaching.
Vice president Kamala Harris recently refused to say if she agreed with CDC guidance that said vaccines are not a prerequisite for school reopening.
MORE: Teacher union boss fought in-person learning, sends kid to in-person preschool
Editor's note: Big Tech is targeting conservative media. Please consider creating a free Rumble account here and subscribing to The College Fix page so we can make sure to continue delivering you news.
IMAGE: C-SPAN
Like The College Fix on Facebook / Follow us on Twitter