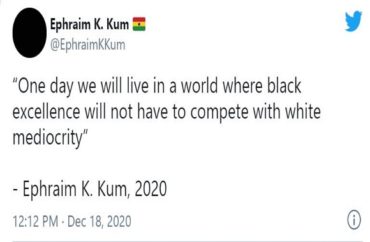 Several student government leaders have made racially intolerant social media posts in recent years directed at white people, showing a possible bias these leaders hold against constituents at their respective schools.
Several of these students made headlines recently, such as Stanford University's Gabrielle Crooks, who tweeted in 2020 "Yes I think white people need to be eradicated yes I will go feral over mediocre white men we exist."
Crooks was re-elected as a student senator earlier this month.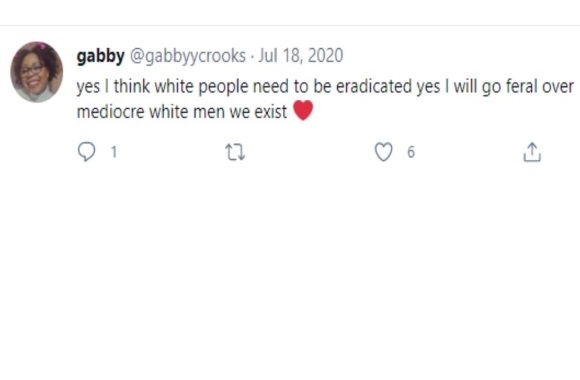 Across the country at Virginia Commonwealth University, its student body president, Taylor Maloney, posted on Twitter that "i hate white people so much its not even funny."
The leaders found to display this bias are few, but other examples have been uncovered by The College Fix.
The president of University of California Berkeley's Associated Student Government, Victoria Vera, has made a number of these tweets, ranging as far back as 2018, making it clear that she has had a deep-seated distaste for her white counterparts.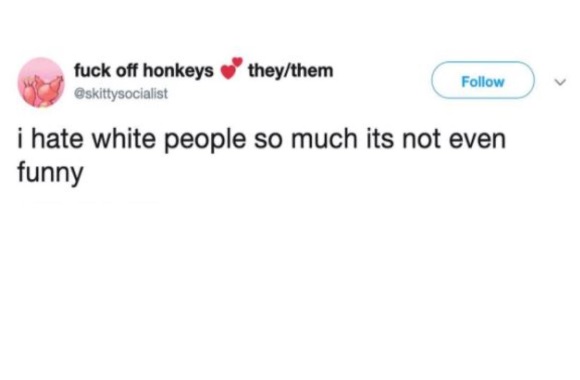 Vera, who is Mexican American, ran for ASUC president in 2020 with the goal of "strengthening and uplifting underrepresented communities," according to the Daily Californian.
Prior to serving as president at UC Berkeley, Vera also served as chair of ASUC's Diversity Affairs Commission.
Her tweets, however, tell a different story as a number of posts to her Twitter page display intolerance toward white people.
In a 2018 post about the then-upcoming California primary, Vera advocated strongly against white Trump-backed candidate John Cox, citing that "I AM TIRED OF THESE WHITE MEN!!!"
Another tweet without context and seemingly unprovoked simply states that "White women are so entitled."
White women are so entitled

— victoria vera (@victoriaevera) September 11, 2019
A year before her initial run at president, Vera also attacked white culture, asserting that "White culture is just violence."
Not even popular music was spared by her tweets as Vera even called out listeners of "Africa" by Toto for racist behavior.
Africa by Toto is racist and a song of white supremacy. Yall really need to stop making that you karaoke song

— victoria vera (@victoriaevera) November 30, 2018
"Africa by Toto is racist and a song of white supremacy. Yall really need to stop making that you karaoke song," the tweet reads.
UC Berkeley student Ashley Carnahan told The College Fix via email that Vera's tweets are far from professional, but defended her right to free speech.
"Vera's past comments are absolutely not the proper actions for the president of the student government at Berkeley. While I don't agree with Vera's comments, especially how Africa by Toto is a 'song of white supremacy,' I fully respect Vera's right to free speech," Carnahan said.
Vera failed to respond to numerous requests for comment from The College Fix as to the reasoning behind her tweets and whether or not she felt these posts accurately represented her white constituents while serving as president.
Vera is one of a growing number of student leaders who have spoken out against white people in the past three years.
Student body President Ephraim Kum of the University of Utah, who is black, has also penned several tweets that denigrate white people.
In one tweet, Kum imagines a world in which "Black excellence" will no longer have to compete with "white mediocrity." Another tweet, apparently mocking white athletes, displays a pair of Moon Shoes with the caption "How to win at basketball when you're white."
"One day we will live in a world where black excellence will not have to compete with white mediocrity"

– Ephraim K. Kum, 2020

— Ephraim K. Kum 🇬🇭 (@EphraimKKum) December 18, 2020
The 2020-21 President Kum also denotes certain emojis for sole use by black people in another tweet.
Likewise, the University of Indiana's Student Body Vice President Ruhan Syed also made a questionable assertion about former New York Mayor Rudy Giuliani in a tweet, describing his similarity with "any old white man."
"You could show me any old white man and tell me that it's Rudy Giuliani and I'd believe you," the post reads.
Editor's note: Ashley Carnahan contributes to The College Fix.
MORE: Prof defends her 'Dear God, Please help me to hate White people' prayer
Like The College Fix on Facebook / Follow us on Twitter