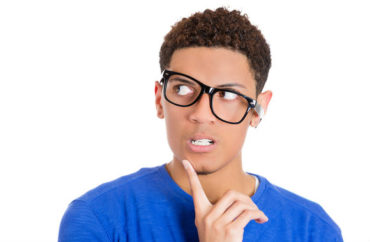 The University of Buffalo's Black Student Union held a town hall meeting this past Monday to "open up about their emotions without judgment" regarding the appearance — and subsequent protest — of Allen West almost two weeks ago.
West, the former U.S. Army lieutenant colonel, U.S. representative and Texas GOP chairman, was invited by the campus chapter of Young Americans for Freedom to give a speech titled "America is Not Racist."
West (below, left) managed to complete his speech despite chants of "Black Lives Matter" and "No Justice, No Peace" by  protesters outside the venue. But things turned south during the subsequent Q&A session as protesters "attempted to hijack the conversation" and "flung insults at West."
According to The Spectrum, West's talk really demoralized some students. BSU Secretary Taylor Lewis, for example, said she "felt weird" and was "trying to figure out where [her] place" on campus is as a "human being."
Sociology graduate student J Coley said he is "exhausted" protesting (alleged) racism and believes the university hasn't done enough to make the campus "a more inclusive place."
"At the end of the day, it is not our responsibility," Coley said. "The administration gets paid to do stuff like this. Remember, we pay their bills."
MORE: Fake hate alert: Racist drawing at Binghamton U. leads to student town hall gripe session
The UB Graduate Student Association, of which Coley is president, issued a statement in support of black and "POC" (people of color) students regarding "the anti-Black hate speech promoted by Allen West's presence on campus […] as well as the attacks on Black and POC student protesters the same day."
The town hall also featured the all-too common "I'm all for free speech but …" statements. Student Smitty Smith said "I feel like everyone should have the right to freedom of speech, but the person you invite to speak and you give that platform to matters." He said minority students needed to be "protected" from speakers like West.
In an Instagram post, student Morgan Ross added to the theme, writing "While we understand that people have the first amendment right to freedom of speech, regardless of if they share the same ideologies and thoughts as we do … there comes a point when we must confront the true reasons why certain platforms are given."
In this case, the reasons include "minimiz[ing] the experiences of Black and Brown students in America." Even though West is a black man.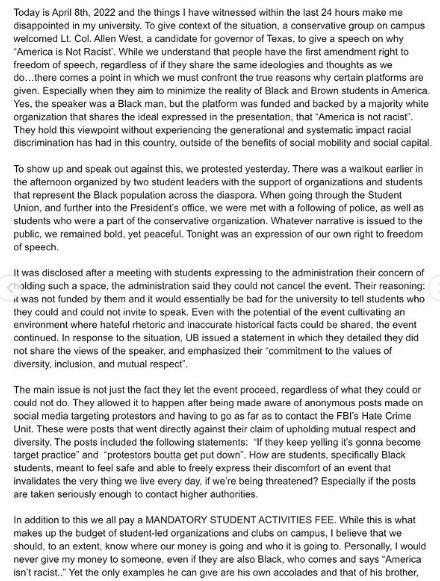 After over an hour of discussion and debate, BSU members were unable to construct a concrete solution to solve these complicated issues.

But there appears to be a desire for further action among rank-and-file BSU members.

"Racism does not end," James Resnick, a senior history major and BSU member, told The Spectrum. "Like any idea, it just keeps taking a new form. That's why we need to get politically active and have our own opinions."

Allen Williams, the program coordinator for the Intercultural Diversity Center, told students that the IDC was there to support them and that it's not students' responsibility to change campus — they just have to get administrators to listen to them.

The e-board sent out an exit form to BSU members at the end of the meeting, to ensure that everyone got a chance to "give prescription" on what BSU should do moving forward.

"This is just the first step to many more steps to debunk all the microaggressions, racism, prejudice, everything on our campus," [BSU Vice President Sanyia] Julie said.
The roughly 52-minute town hall can be viewed here.
MORE: Villanova Black Student Union: Alleged racial slur means 'greater institutional issues' at school
IMAGES: pathdoc/Shutterstock.com; morganzworld/Instagram screencap
Like The College Fix on Facebook / Follow us on Twitter