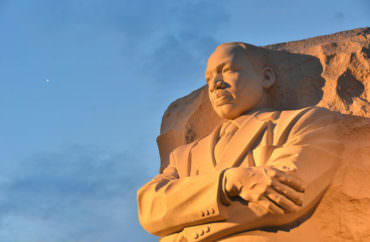 To celebrate the country's annual Martin Luther King Jr. Day, the University of Oregon, in conjunction with the local branch of the NAACP and Lane Community College, will highlight "the voices of women and youth, as well as environmental justice" during a pre-rally and march on January 21.
UO's Division of Equity and Inclusion will host the pre-rally, after which marchers will proceed to the Shedd Institute of Art to listen to speeches from various community members including US Representative Peter Defazio and UO president Michael Schill.
According to the Daily Emerald, the NAACP's Isis Barone said of the march and MLK that "[t]he African-American struggle for dignity and equality is quintessential to the American dream." This somehow translates to … concern over climate change:
"In these political times this is a unifying day where we recommit to working for a dignified and just society […] We will focus on excellence in our community with an urgency on environmental and climate justice," Barone said. …

Our Children's Trust, a nonprofit organization known for advocating for the right to a stable climate, will be co-hosting the event. Dylan Plummer, Recent UO graduate and grassroots organizer for OCT, believes that the fight for environmental justice has much in common with the civil rights MLK Jr. was known for championing.

"King's work for social justice has influenced our nation and the world tremendously," Plummer said. "But we all have a responsibility to continue his legacy and fight for equal rights."
"A right to a stable climate"? Man-made greenhouse gas emissions notwithstanding, when has the planet's climate ever been stable?
Our Children's Trust is the outfit which has sponsored numerous climate-related lawsuits across the country, including one against Washington State to "reduce carbon emissions 80 percent below 1990 levels by 2050," and another against former Florida governor Rick Scott for doing "not much" about climate change, aka global warming.
MORE: Students deface MLK chapel to protest 'rape culture'
MORE: School replaces MLK Day with seminars on privilege, Islamophobia
IMAGE: Orhan Cam / Shutterstock.com
Like The College Fix on Facebook / Follow us on Twitter