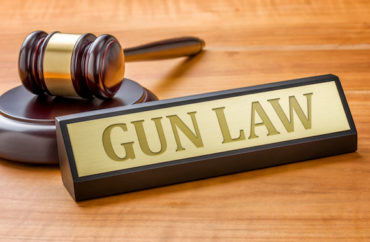 In order to remain a viewpoint "content-neutral" public university, the University of Texas requested that all outward-facing anti-gun signs be taken down from professors' office windows.
The deadline for the "voluntary" compliance was two days ago.
The signs, which read "Gun Free UT," are an homage to the group by the same name formed in response to Texas's 2016 campus carry law.
"Consistent with U.S. Supreme Court rulings, the University has policies that use a content-neutral approach based on 'time, place and manner' to regulate speech on campus, including the placement of signs," UT spokesman J.B. Bird said in an email to The Daily Texan. "The University's rules do not allow signs on windows that face externally to campus."
UT history professor Joan Neuberger claims there was never any official administration directive regarding signage. Neuberger is a leader in Gun Free UT and has one of the signs in her office window.
"What happened this summer is that the chairs were informed by their deans in a message that came from the president that they wanted us to take the signs down," she said.
Neuberger said after reaching out to the University, the Legal Affairs office cited University policy to explain the decision, which states that "a University person or organization may display a sign by holding or carrying it, by displaying it at a table or by posting it on a kiosk, bulletin board, or other designated location. Signs may not be staked in the ground or posted in any other location."

The signs, Neuberger said, began to appear around campus in fall 2015. English professor Lisa Moore, who had Gun Free UT signs in her previous office, said the University recommended removal of signs for several reasons in multiple meetings with departmental leadership and other faculty. But this was the first time the University requested the removal and cited the policy, Moore said.

"They're citing a policy that was in place long before Gun Free UT came along," Moore said. "Only now are they saying (it) is a policy that means we can't put those signs up."

Bird cited the "proliferation of prohibited signs, including hateful fliers, at UT and on other campuses" for why the University decided to set a deadline for voluntary compliance.

"We have been working closely with deans to request that faculty and staff members remove all signs in outward-facing windows, regardless of the content," Bird said in an email. "We will continue those efforts towards voluntary compliance."
Journalism professor David Donaldson noted the matter isn't a cut and dry First Amendment issue. Sidestepping the "content neutral" aspect, Donaldson said the requested sign removal could be about "promoting a cleaner look, better learning atmosphere for [the] students."
On the other hand, he said the university is a place where "you should encourage people to engage in individual speech, which might be a form of putting something out on your window."
MORE: Gun activists praise court ruling in favor of campus carry
MORE: U. Texas says faculty don't have the right to academic freedom
IMAGE: Zerbor/Shutterstock.com
Like The College Fix on Facebook / Follow us on Twitter