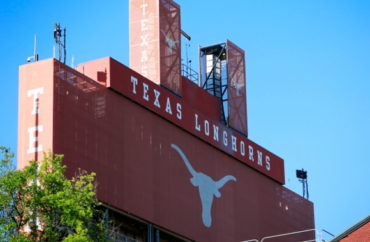 All 50,000-plus students at the University of Texas will be able to express their views on the school alma mater "The Eyes of Texas" on the last two days of the month in a "nonbinding" vote.
According to the Austin-American Statesman, students will vote on the question "Should The Eyes of Texas be replaced with a new school song?" with the results being made available on March 6.
"The Eyes of Texas" has undergone substantial scrutiny since the murder of George Floyd in 2020. Its demise was one of several student demands along with renaming buildings honoring Confederates and "educat[ing] incoming freshmen on the history of racism on campus."
UT-Austin even created an alternate marching band in early 2021 so that students offended by the song wouldn't have to play it, and a group of students staged a walkout at that year's graduation ceremony in protest.
UT officials have thus far remained firm in keeping the song.
The song has its origins in an early 20th century minstrel show, but that's about the extent of any "racist" connection, according to a report commissioned by the university. (UT History professor Alberto Martinez wrote a "counter report" challenging the official release.)
Last week the student government voted 25-1 (with four abstentions) in favor of a resolution condemning "The Eyes of Texas." The bill chides U. Texas' diversity efforts and says "[g]enerations of student leaders and activists have advocated for immediate action to remove the Eyes of Texas and reaffirm the university's commitment to creating a safe and supportive community for all students."
The student government states in the bill that it is "the official voice of students" at UT; on March 6 the UT student body will see if this is actually true — or, as noted, if it just reflects the views of "student leaders and activists."
MORE: UT school song written to poke fun at president, not promote racism: UT report
IMAGE: GS Photography / Shutterstock.com
Like The College Fix on Facebook / Follow us on Twitter