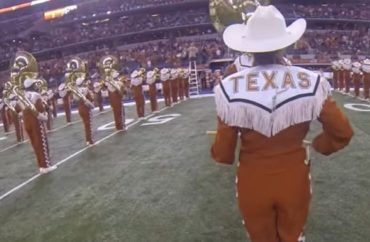 A group of students at the University of Texas-Austin are planning to walk out of Saturday's commencement ceremony over the school's continued use of the song "Eyes of Texas," according to a Facebook page set up by those objecting to the song.
"After years of protesting the usage of the 'Eyes of Texas' for its anti-Black racist history and months of concentrated efforts on the part of students and allied faculty to replace the school song, it has been confirmed that the Eyes of Texas, despite the racism it represents, will be played at graduation," reads the Facebook page.
"Rather than stay and be complicit in the continued anti-Blackness of UT's administration, those of us who see through President Hartzell's mission to 'reclaim' a racist song will be walking out during commencement to protest the inclusion of the Eyes of Texas in graduation programming and school events," the page reads. "UT's administration may be swayed by powerful donors who are committed to keeping white supremacy alive at UT, but we, as students and now alums, can express support for the Black students, alumni, and faculty who have been harmed by this song for over 100 years."
Over the past year, UT-Austin has wrestled with continued use of the song, but in March, a research committee published a 59-page research report on the implications of the song, concluding it will remain the school's official song for lack of sufficient context supporting racism in it.
School president Jay Hartzell has been supportive of keeping "The Eyes of Texas" as the school's fight song, even insisting it be played over the stadium's PA system during sporting events when a number of band members refused to play it. In April, the school created a second band for students who declined to play the song.
In March, the school released emails showing wealthy alumni threatening to withhold their donations if the school ditched the song.
In recent months, students have grown uncomfortable with the song, claiming it has ties to minstrel shows where performers wore blackface. Detractors had claimed the song's title was taken from a saying by Confederate Army Commander Robert E. Lee, but the UT-Austin report said the song has no connection to the Confederate general and former UT president.
Saturday's student protest is set to begin when the song plays at the commencement ceremony.
"The song will be played towards the end of the programming. When it is announced/begins, we will walk out. Commencement is the stadium and we assume that undergrads will have to exit through the gates they entered," the Facebook page reads.
MORE: UT-Austin donors threaten to withhold funds if school ditches historic fight song
IMAGE: YouTube screenshot
Like The College Fix on Facebook / Follow us on Twitter