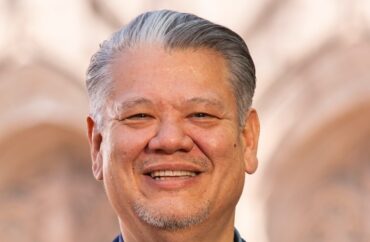 A college dean recently claimed the "story" of the tragedy on the Hawaiian island of Maui "begins way, way, way, way before" the destructive wildfires which have claimed over 100 lives … and possibly many more.
Michael Spencer, dean of the University of Washington School of Social Work who's a native Hawaiian, said in order to understand the disaster, one has to to "go back hundreds of years to the arrival of Europeans, who brought their deadly cocktail of disease and destruction, and to the U.S.-backed overthrow of Queen Liliʻuokalani."
White Europeans, according to Spencer (pictured) and Seattle Times columnist Naomi Ishisaka (the assistant managing editor for diversity, inclusion and staff development), transformed Hawaii "from one of interdependence and sustainability to one of resource extraction and fragility."
The Lāhainā area, for example, used to be wetlands but the development of plantations and subsequent tourist trade filled in the area with soil, which then grew "nonnative plants and flammable grasses."
"All these things are happening as a result of these years of destruction of the ecosystem that Native Hawaiian people not just took care of, but worked in unison with — they were inextricably tied to land," Spencer said. "And they lived by the way of the land, not in spite of the land."
MORE: Student op-ed: Non-natives should honor Indigenous Peoples Day … by not traveling to Hawaii
Many Hawaiians now are clamoring for tourists to come to the island given they account for over three-quarters of the island's economy. However,
Seattle journalist Dae Shik Kim, Jr., who was born and raised on Oahu, is one of many who say tourists should be discouraged from going to Maui. He said the push to restart tourism is "shortsighted and lacks a lot of tenderness and care. Lāhainā is, in a lot of ways, the heartbeat of Maui."

"Right now Maui is just not the place to have a vacation," Kim said. "And I think people need to be self-aware enough to know that this is not it. We can talk about the long term later … and have that debate on what it means to be an ethical and responsible tourist in Hawaiʻi, but the immediate — it's not the place to go. Maui is in mourning, Maui is suffering."
Spencer added that Hawaiians, "like many colonized Indigenous people," suffer from high poverty rates and other maladies. "The common thread is when you remove people's land, culture, language, food, water, you're actually trying to kill them," he said.
According to his faculty bio, Spencer previously taught courses on diversity, social justice and "community practice," and his research looks into "interventions that promote health among Native Hawaiians through Indigenous practices and values."
MORE: Profs: Hawaiian shirts represent American colonization, imperialism, racism
IMAGES: U. Washington
Like The College Fix on Facebook / Follow us on Twitter