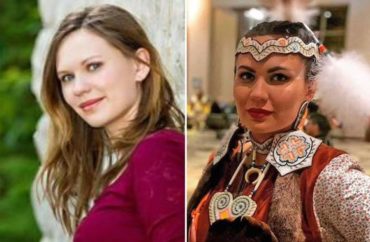 She tanned a lot … and got defensive when questioned about it
Another ersatz Native American has been discovered, this time a former artist-in-residence at the University of Wisconsin.
"Two-spirit" Kay LeClaire (pictured), who called herself "nibiiwakamigkwe" and founded the "queer Indigenous artists' collective" known as giige, was outed on a message board called New Age Fraud Forum, according to a January 3 article in Madison 365. 
LeClaire was a "community-leader-in-residence" for the public university who focused on "Indigenous craftwork" and tattooing.
A user of the New Age Fraud site who claims to be Indigenous and a "hobbyist genealogist" first became aware of LeClaire via a Facebook ad for a discussion of Indigenous feminism. The user said LeClaire's use of "nibiiwakamigkwe" was "unusual" as it is "typically something that would just be used in ceremony or with other people who are Ojibwe or a part of your community."
The user added that LeClaire claiming to be Anishinaabe also was odd: "Band names are so important," the user said, that "when someone just says Anishinaabe" it leads to suspicion.
Local Native tattoo artist Nipinet Landsem said LeClaire also claimed Métis heritage but didn't seem to know much about it: "I thought it was interesting how [LeClaire] often wore, it wasn't like full regalia, but (they were) often wearing furs and clearly Indigenous-made clothing and it was almost like flying a flag. 'Hi, I'm an indigenous woman.'"
Landsem also noted that LeClaire would hit the tanning booth a lot, and if people questioned her about it she would accuse them of "colorism." LeClaire also claimed her mother had forced her to "bleach" her hair, Landsem said.
MORE: 'Indigenous' scholar resigns after being outed as white
LeClaire did not admit to anything outright and declined an interview with Madison 365. She did provide a statement, however:
I am sorry […] A lot of information has come to my attention since late December. I am still processing it all and do not yet know how to respond adequately. What I can do now is offer change. Moving forward, my efforts will be towards reducing harm by following the directions provided by Native community members and community-specified proxies. Currently, this means that I am not using the Ojibwe name given to me and am removing myself from all community spaces, positions, projects, and grants and will not seek new ones. Any culturally related items I hold are being redistributed back in community, either to the original makers and gift-givers when possible or elsewhere as determined by community members. Thank you.
According to a December 31 Instagram post from giige, LeClaire and the artist collective parted ways effective immediately.
"The foundation of our collective encompasses gender and trauma-informed care within an Indigenous tattooing space, bringing healing through ink back to Indigenous and queer bodies," the post reads. "[LeClaire] has both gone against our inherent values and perpetuated harm within the Teejop community and beyond […] Communities are built on trust and while Kay Le Claire violated that trust we will not let [her] actions shake our beliefs."
Interestingly, as revealed by bias reports recently obtained by The College Fix, one U. Wisconsin-Madison professor was reported for "doubting" a student's alleged Native American heritage.
"I emailed [professor's name redacted] because I was looking to seek help and advice about my identity and questions related to family history preservation and access to mental health resources," the bias report reads. "The way [the professor] automatically assumed I could be wrong about my heritage and his wording of that paragraph was very blunt and rude and made me feel more lost …"

The professor addressed everything in the student's email as requested, but here is what (allegedly) was so offensive:
"First, many many many people make dubious claims about Indigenous ancestry for various reasons, so such claims without documented proof will initially be viewed suspiciously by tribal nations and communities […] Don't be surprised if people do not welcome you with open arms until you have definitive proof of your ancestry. Not your fault, but rather the fault of the tens of thousands of people before you who knowingly tried to claim Indigenous ancestry when they did not have it."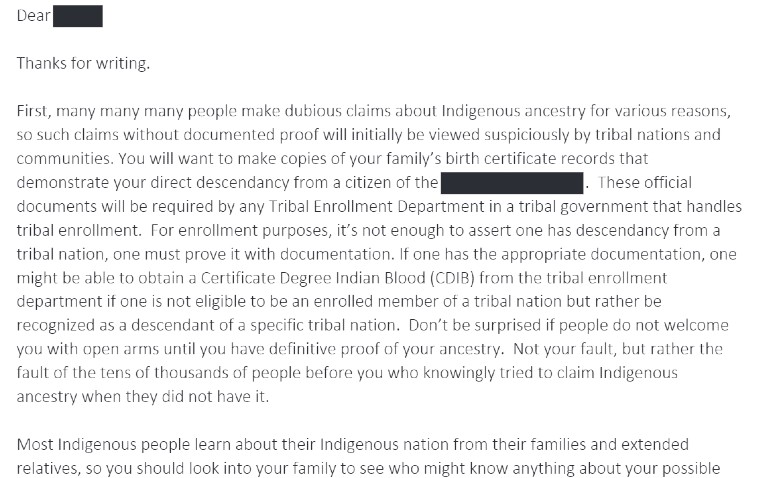 The student responded "I was going to just forget about the conversation, but my family told me that I should never receive an email like that from someone […] I will always stand up for my family, and I will never let anyone tell us what we are and what we are not …"
In the bias report's "additional comments" section, the student wrote "All I wanted was a safe space to talk about how I am struggling with my identity and problems related to Native life, and it only made me feel worse about myself. I never want another peer to feel like I did."
MORE: Canada's fake 'indigenous' professor resigns
IMAGE: Madison 365 / Twitter screencap
Like The College Fix on Facebook / Follow us on Twitter