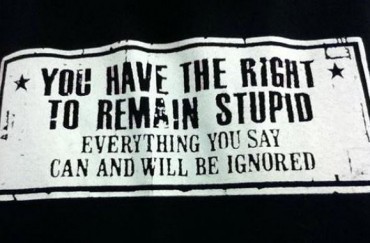 UPDATE: UW-Stout's frontier paintings – deemed 'harmful' – now slated for 'controlled' campus rooms
The chancellor of the University of Wisconsin-Stout has announced that "two of three historic paintings depicting interactions between white traders and First Nations people" will be taken down from the school's Harvey Hall due to their "potentially 'harmful effect' on students and other viewers."
That's right, a so-called college diversity group has struck again.
UW-Stout's Diversity Leadership Team (DLT) came across the paintings this summer and became concerned that their depictions of Natives would "reinforce racial stereotypes."
The group met with Chancellor Bob Meyer to discuss their misgivings, and Meyer ended up agreeing with them.
As reports the National Coalition Against Censorship, Meyer announced "Because of the risk of 'having a harmful effect on our students and other viewers,' the paintings will not appear in the new Harvey Hall and will be placed into storage."
The paintings must be placed in a "controlled gallery space," Meyer continued, which will provide "context" for viewers.
Timothy Shiell, an English and Philosophy professor at the University, who contacted NCAC about the incident, expressed frustration over the decision. The Chancellor did not consult the rest of the university faculty, groups or student body prior to the making of the decision, Prof. Shiell explained.

He noted the precedent the decision sets when similar complaints are leveled at the university in the future. "Shrouding or moving the painting does not educate anyone or stimulate any learning or dialogue," Prof. Shiell said in a statement. "American history and representations of that history can be ugly and offensive.  But hiding them doesn't change the past or the future."

MORE: Obama daughters' school Sidwell Friends bans 'Redskins' clothing

A U.S. History Professor at UW-Stout agrees with Chancellor Meyer's decision, however. Prof Kate Thomas argues the paintings stand in the way of the university's goal of creating an environment inclusive of diverse populations, including Native Americans.

NCAC believes historical work like Cal Peters' provides an opportunity to engage with and reflect on the lasting and important questions raised by these traces of historical memory. At a time when the lingering effects of systemic prejudice and racism continue to be felt this is of particularly importance. Placing Peters' paintings in storage misses this valuable educational opportunity.
Here are the paintings in question. Seriously, UW??
In a letter to the university, the NCAC writes
The few studies the [school's Diversity Leadership Team] has offered in support of its claim that Native Americans who witness stereotypical media depictions of other Native Americans suffer adverse psychological consequences, such as decreased self-esteem, are limited in scope and focus on mascots and mass media representations rather than historical paintings. The findings are neither definitive nor applicable to the artwork in question.
Unfortunately, my bet is that this won't matter much. After all, even a report showing that 9 out of 10 Native Americans are not offended by the term "Redskins" hasn't dissuaded politically correct progressives from feeling good about themselves.
MORE: Madison, Wisc. schools ban 'negative images' of Native Americans
MORE: Brown students stage 'die-in' to protest lack of Native American recognition
Like The College Fix on Facebook / Follow us on Twitter
IMAGE: Chisel Wright/Flickr