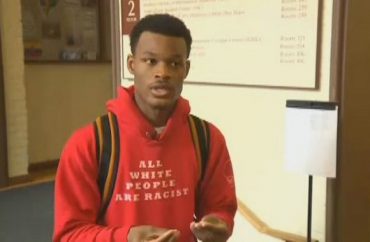 Remember University of Wisconsin student Eneale Pickett? He created and sold hoodies emblazoned with the phrase "All White People Are Racist" back in 2016 and 2017.
He also offered up a sweatshirt which read "If I Encounter Another Cop With A God Complex I'm Going To Have To Show The World That They Are Human."
He's back with the former, and although some of his new offerings feature less offensive phrases such as "Black Boy Brilliance" and "Black Girl Magic," his defiance about the controversy remains intact.
Officials at UW-Madison didn't much care about Pickett's slogans in the first instances citing free speech matters "in a private activity unrelated to [his] status as student." But when given the opportunity, they would not even denounce the message conveyed by the apparel.
To show how disingenuous UW really is about free speech, a few weeks after Pickett's first line of clothing came out, the college not only issued an apology, but revoked the (football) season tickets from several fans who had dressed up as Donald Trump, Barack Obama, and Hillary Clinton — the latter two with nooses around their necks — at a 2016 home game.
Like the UW administration, The Badger Herald — as evidenced by its headline "'All White People Are Racist' line returns as poignant reminder" — doesn't think Pickett's slogan is a big deal:
Since the intentionally uncomfortable message started circulating, Pickett has received mixed reactions from the public. Though he did get some positive feedback, Pickett says a lot of his white peers have shared negative opinions on the clothing line.

"People made my message into something it wasn't," Pickett said. "The media made it seem like I was calling all white people bad. But it's not about good or bad. I was talking about systemic racism and anti-blackness."

Those who disagree with Pickett have not only been heard — they've approached Pickett directly about it. He's received a lot of dirty looks and comments, but that is to be expected from a liberal campus, Pickett said.
Lines you won't see in a student paper about someone selling clothing which says, for example, "All Muslims are Terrorists": "poignant reminder" and an "intentionally uncomfortable message."
At any rate, Pickett claims that anyone from a progressive enclave like UW who finds his attire offensive should be "considered dangerous."
"If you're more mad about being called racist than black and brown people dying because of systemic racism, you're the problem," Pickett says. "I don't care if you're the most liberal person ever. You're racist."
MORE: UW-Madison won't denounce 'All White People Are Racist' hoodies
MORE: UW student to release new line of racist 'conversation-sparking' clothing
IMAGE: KCTV-5 screencap
Like The College Fix on Facebook / Follow us on Twitter