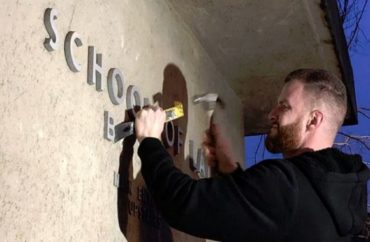 The University of California Berkeley finally put the finishing touches on the "de-naming" of its School of Law on Thursday, completing a process that had started years before.
Lawyer John Henry Boalt, for whom the law school was named, had delivered a paper to the Berkeley Club in 1877 titled "The Chinese Question." It argued "Chinese immigrants could never assimilate and therefore had to be dealt with in a different manner."
Boalt's paper alleged "Chinese people provoked 'an unconquerable repulsion' in Americans" and that they brought "all the vicious practices and evil tendencies of [their] home.'" It also claimed Caucasians are a "non-assimilated" race.
The thesis led to support for the Chinese Exclusion Act of 1882.
Berkeley stopped referring to the law school as the "UC Berkeley Boalt Hall School of Law" thirteen years ago, opting for just "UC Berkeley School of Law." Making it easier for the committee deciding on name changes was the fact that it was Boalt's wife who had made "a significant contribution" to the law school (covering costs for construction of a new building), not Boalt himself.
Mrs. Boalt had requested, however, the school be named in her husband's honor.
It took more than a year to actually, physically, remove Boalt's name from the building.
The Daily Californian reports on the reaction of the school community:
On Thursday, UC Berkeley School of Law student Alex Mabanta awoke to the actuality of something he had been working on for his entire graduate career: the de-naming of Boalt Hall. …

Tar Rakhra, a third-year Berkeley Law student, said he first heard of Boalt's tainted legacy when he initially arrived on campus. He created a video featuring Berkeley Law students reading portions of Boalt's now-infamous speech out loud and voicing their reactions, which was then played at a town hall to display the student perspective.

As co-chair of the Asian Pacific American Law Student Association, Rakhra also helped write a letter addressed to Berkeley Law Dean Erwin Chemerinsky urging that the law school dissociate from Boalt. Many campus student organizations signed the letter, as did several law student associations from universities across the country.

Rakhra said the de-naming "indicates that a law school is defined by its future and current students." …

Victoria Vera, chair of the ASUC Diversity Affairs Commission and member of the chancellor's committee, said in an email that she hopes the decision "instills a sense of pride to the campus community."

"As a current first-generation student of color, I know how it feels to be isolated on this large campus," Vera said in the email. "I hope that this denaming is a step towards making this campus more inclusive but also opens the campus up to the conversation about our history."
School of Law Dean Erwin Chemerinsky had indicated over a year ago that the school would "come up with a plan to honor Elizabeth Boalt's legacy"; thus far, nothing concrete has been put forward.
MORE: GWU trustees create 'task force' to explore renaming campus buildings
MORE: U. Oregon spent $23,400 to create report on renaming buildings
IMAGE: The Hill screencap
Like The College Fix on Facebook / Follow us on Twitter