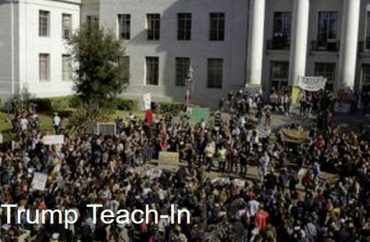 UC Berkeley faculty are slated to host an anti-Donald Trump "teach in" next week, an event that will take place in the face of Chancellor Nicholas Dirks telling professors not to use public resources to engage in political campaigning for or against candidates or ballot measures.
"By now it is unmistakable that Trump's campaign has been fueled by a sharp rise in racism and bigotry, sexism and misogyny, xenophobia and Islamophobia, Alt-right white supremacy and anti-Semitism, exhortations to physical violence, repeated promises to jail his political opponent, and now videotaped evidence of Mr. Trump bragging about sexually assaulting women," faculty organizers state. "… The purpose of this event is to foster student voter education about the perils posed by Trump and what he represents for our university, our communities and our country."
The one-hour event is scheduled for noon Oct. 18 at Sproul Plaza. The professors appear to be giving outgoing Chancellor Dirks the proverbial middle finger in scheduling it. Announcement of the event comes just days after Dirks sent a campuswide email admonishing professors not to push a political agenda on the taxpayer's dime.
Dirks' email stated in part: "I also want to take this opportunity to remind our campus community that University resources (including paid time of University employees and non-incidental use of University equipment and facilities) should not be used to campaign for or against any candidate for public political office or any initiative proposition that is on the ballot."
"University employees have a constitutional right to participate in political advocacy in their capacity as private citizens, but may not lawfully use public resources to engage in political campaigning for or against candidates or ballot measures and should take care to avoid any implication that their private political activities are carried out in their University capacities or are otherwise endorsed by the University," it added.
It's clear faculty could care less about Dirks' warning.
Five Berkeley professors and another from UC Davis are slated to speak on the topics of "immigration, Islamophobia, women and gender, whiteness and masculinity, law and order and Democracy," according to the event's Facebook page.
The Berkeley College Republicans have also faced repeated vandalism and bullying at UC Berkeley in recent weeks.
MORE: 'Escape hatch' built for Berkeley admin building in wake of repeated sit-ins
MORE: Berkeley students protest white prof who rapped 'stop scapegoating cops'
Like The College Fix on Facebook / Follow us on Twitter
IMAGE: Facebook screenshot