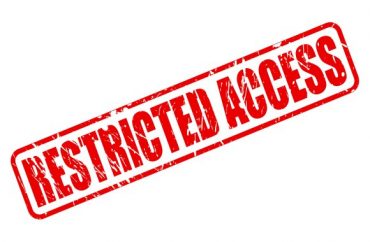 'Dehumanizing and bullying behavior'
It's challenging enough being a campus police officer at the University of California-Berkeley, where the local Antifa contingent uses violence to shut down speech that offends them.
It's even worse when you aren't allowed to relieve yourself on a break.
A redacted email to Chancellor Carol Christ from an unidentified "security patrol officer" was published by the Young America's Foundation Monday, obtained through a public-records request.
The email is dated Sept. 28, 2017, and the context is last year's "Free Speech Week" activities headlined by anti-feminist provocateur Milo Yiannopoulos. A YAF spokesperson told The College Fix the conservative group filed the request in April 2017 and "just recently" received the email, among other documents it's still reviewing.
The officer is not identified by gender in the email, but YAF's Monday post says it's a male. (His name and email handle are redacted, but the Berkeley.edu domain is intact.)
The 25-year veteran said he and his colleagues had "never been treated with such disrespect and disregard" as they were during Free Speech Week.
They were using a ballroom to rest and eat in the student union building, and it was "completely understandable" when they were asked to use an external stairwell to get in and out of the ballroom, so as not to disrupt student activities.
What was "offensive and unacceptable" was when they were asked to "not to use any restrooms" in the building, "as it was upsetting some students," he said. (The officer's email is phrased in the passive tense, and does not give any clue as to who made these requests, even as general as building staff or student activists.)
Not only does this request potentially violate the Americans with Disabilities Act, it is simply "unconscionable" to put public restrooms in a public building off-limits to police, he wrote:
How can we foster a sense of community policing when the campus community, that we work hard to protect, has such disdain for us as fellow human beings that would deny us such a basic human function. [sic] If we treated a member of the campus community in this way we would most certainly be held accountable and rightly so.
Referring to a recent message by Oscar Dubón, vice chancellor for equity and inclusion, addressed to those who felt "unwelcomed, devalued, and dehumanized" during Free Speech Week, the officer asked Chancellor Christ when police "get to be a part of this campus community" that supposedly rejects hatred:
We have done nothing to warrant the dehumanizing and bullying behavior that we and our partner agencies experienced this week. We simply tried our best to protect the students, faculty, and staff, as we do on a daily basis, from any possible harm.
He looks forward to the day when "we are accepted into the campus community."
The administration said it spent $800,000 on security to protect what some called an expensive photo op by Yiannopoulos.
Read the email and YAF post.
MORE: Antifa radical ordered to pay College Republicans leader's court cost
IMAGE: Shutterstock
Like The College Fix on Facebook / Follow us on Twitter