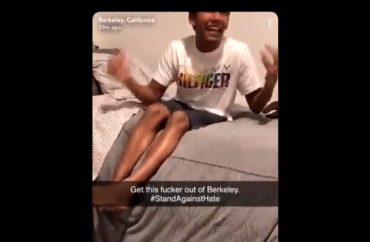 Won't say what 'action' means
A profane Snapchat video featuring a nonwhite student at the University of California-Berkeley is roiling campus.
But the taxpayer-funded institution won't directly answer calls for the student's removal, saying simply that it's taking "appropriate action" and refusing to tell The College Fix if the documented speech is punishable.
According to gay news website PinkNews, the video was first posted on Snapchat and then reposted on TikTok and Twitter, where it went viral.
It depicts a nonwhite student who does not sound like a native English speaker, and may also be intoxicated. He's sitting on what appears to be a dorm bed. He tells the person recording the video:
I fucking hate those nigger faggots. Fucking black people getting rights. They should be like woman [sic]. … I fucking hate them [black people]. [The person recording asks why.] They're fucking black, do I need a reason? ["Do you think they should they have the same rights as us?"] I don't think they should have rights at all. They're like woman. Woman, black people and the gays should —
The Twitter video cuts off here, where the student apparently also started making anti-gay statements. The Twitter user claims it happened in Blackwell Hall on Berkeley's campus: "Get this fucker out of Berkeley. #StandAgainstHate"
honestly hella fucking disgusted this piece of shit roams our fucking school ?VV????3?:?:?: what the holy hell at black well halls y'all!!!!!! fuck these stupid ass mfs I'm fucking vomiting pic.twitter.com/YulJlfYmhc

— frida ϟ ♡ #200wKookheon (@fridugh) December 6, 2019
MORE: School district seeks to punish student for off-campus 'racist' Snapchats
PinkNews claims the student makes "homophobic" statements and says "LGBT+ people" don't deserve rights, but it's not clear how much he talked about "the gays." PinkNews noted the Twitter video Tuesday, but both the video and university response were posted Friday.
Other users responding to the Twitter thread encourage each other to complain to administrators to get him kicked out. Some argue over whether it matters that he has "brown skin," and others identify the student with an Indian name.
A website with that name was apparently taken down soon after the Twitter video was posted, though it's not clear if it's the same student. (If it is, the UC-Berkeley student would be around 16 years old.)
The video currently has more than 3.6 million views on Twitter. A Reddit user claiming to be the student depicted in the video apologized for posting the video, saying the duo was not "in the clearest of minds" when it was recorded:
We recorded that originally as a joke and we impulsively posted it online. However, we quickly realized the problems and damages that this could have potentially caused, so I immediately took it down. I know that you are angry and mad at us, but we never truly meant the words that was said in the video. I just ask that you would forgive us and please do not spread our personal information online. Neither of us meant anything said in the video and we deeply regret even recording that video in the first place.
The user "talked to the [resident assistant] and confessed the issue already, and have explained to her exactly what led up to this video."
Past responses include 'working with and supporting' offended students
The administration's response Friday said it was aware of the "offensive video." It has heard and understands "the strong reactions and condemnations that have followed, including from women and members of our Black and LGBTQIA+ communities, all of whom were specifically mentioned in the video." (It's not clear if administrators have seen a longer version of the video that continues beyond "the gays.")
"We condemn all forms of hatred, bias, racism, bigotry and discrimination. Offensive words cause harm and hurt," the statement said, promising to "confront these challenges and foster a true sense of belonging for all."
As to how the administration is responding, "[t]he campus is taking appropriate action in response to this video being posted on social media." It said "federal laws" and University of California student privacy policies don't let it discuss "the situation of individual students."
UC-Berkeley spokesperson Dan Mogulof disputed that the university's statement implied any kind of disciplinary action could be forthcoming against the student. The Fix had asked him whether "action" could include such an investigation, mediation or removal from campus housing, and how that would comport with the university's First Amendment obligations.
"While I cannot talk about this particular incident, 'appropriate action' in response to incidents in the past has included working with and supporting students who had strong, negative reactions to speech that was protected by the First Amendment and therefore did not violate the Student Code of Conduct," Mogulof wrote in an email Wednesday.
MORE: Outrage at UW-Eau Claire over racially charged Snapchat convo
He recommended reading the university's Campus Code of Conduct to decide "whether a particular allegation might warrant an investigation and/or sanction."
The code provides some leeway for the university to punish the student if it wanted to read provisions broadly. "Physical abuse" includes "other conduct that threatens the health or safety of any person," who could plausibly include fellow residents of the student's dorm who feel threatened by the video.
Students who complain the video has made it difficult for them to attend class or complete assignments could argue the student indirectly committed "harassment" against them, particularly those who are black, gay or women. "Disorderly or lewd conduct" is not further defined in the code, making it easier to charge the student with such a violation.
The "reasonable" person standard is mentioned three times in the "Grounds for Discipline" section of the code, but not in any section potentially relevant to the video. That means students do not have to have a reasonable response to the video in order for the student's speech to be deemed a violation.
The student's biggest threat of punishment might come from code provisions on "controlled substances" and "alcohol," since he appears to be intoxicated in the video.
MORE: Senator targeted for saying 'plantation gift shop' Snapchat was just 'crude joke'
IMAGE: fridugh/Twitter
Like The College Fix on Facebook / Follow us on Twitter