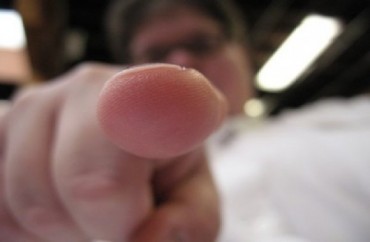 The UC Berkeley student government is calling for the suspension of the campus cops who arrested a pair of black students in early March.
On March 8, two UCPD officers responded to a call of a person in possession of a taser. When one of the officers attempted to take the weapon, the individual, a student, resisted and a scuffle ensued with the other student attempting to intervene.
The Berkeley Black Student Union alleged racial profiling, saying in a press release the arrests necessitate "a larger discussion around police brutality, accountability, excessive force, and racial profiling tactics used by police globally and on this campus. An attack on one of us is an attack on all of us."
Last Wednesday, UCPD Chief Margo Bennett spoke with the Associated Students in an attempt to assuage concerns about the arrests.
According to The Daily Californian, in response to a question about why the students were approached in the first place, Bennett noted weapons such as tasers are prohibited on campus. The student senators then passed a resolution calling for the officers' suspension pending an "external" investigation.
According to Senator Amir Wright, the students who were cited must complete a diversion program that costs $450. The resolution also demanded that UC Berkeley either pay or waive this fee along with any fee associated with counseling services for the students involved.

During the meeting, Bennett said that she will "pledge" to find a way to pay for the students' counseling, whether it comes from her own budget, her boss' or that of Vice Chancellor of Equity and Inclusion Oscar Dubón's.

"Having UCPD pay for the counseling and support services serves as a symbol of UCPD taking ownership of the harm they perpetuate on to Black students," Senator Nick Araujo said.

Araujo said the controversy surrounding these arrests will be one of the first cases brought to the newly formed independent police advisory board that is separate from the UCPD and ASUC. Bennett said she is "hopeful and encouraged" that the advisory board can help bridge the gap between UCPD and the community it serves.

Wright, the primary sponsor of the resolution, said he wrote it with "justice in mind," and to show the students involved that the ASUC supports them.
Chief Bennett noted that if either of suspects filed a formal complaint, the department would "open an internal investigation."
MORE: Campus cops' 'homophobia' blamed for gay party shutdown
MORE: Wellesley students: Calling campus cops 'dangerous' for blacks
IMAGE: a2gemma / Flickr.com
Like The College Fix on Facebook / Follow us on Twitter