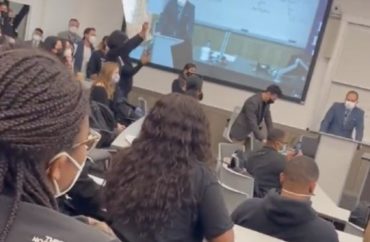 New policy makes it harder to end a speech by disruption
Students and speakers at the University of California Hastings College of the Law will now have better protections for free speech. The school updated its policy on events and eliminated the heckler's veto.
As a result, protesters at the public university can no longer shout down speakers or cause a disruption with the goal of ending an event, according to the new policy.
The media team for the law school provided The College Fix with a copy of the new speech guidelines.
The Event Policy prohibits "forms of protest that substantially disrupt an in-person or virtual event in a way that has the effect of silencing a speaker," but still recognizes and protects peaceful protest such as banner holding, counter events, and engaging in question and answer periods as part of the "essential right to protest."
"UC Hastings is committed to free expression, student support, and diversity, equity and inclusion," communications director Elizabeth Moore told The Fix via email. "Our new event policy – together with the supportive services that we offer to all students – works to achieve these values simultaneously."
Moore did not respond to two requests for information about the punishments violators of the free speech rules could face.
MORE: UC Hastings sued for canceling law school founder
Administrators, according to the new policy, have the authority to hold violators "accountable for violating the UC Hastings Code of Student Conduct and Discipline."
A free speech group thanked the university for changing its policies.
The Foundation for Individual Rights and Expression wrote on its blog that "[u]niversities facing free speech controversies can learn a thing or two from UC Hastings strong commitment to expressive rights."
FIRE noted that the policy change comes after constitutional scholar Ilya Shapiro was unable to deliver his comments at a UC Hastings event (pictured) on March 2, due to endless shouting and interruptions.
An attorney with FIRE said there is a difference between free speech and the heckler's veto.
"The key distinction between protected expression and effectuating a censorial heckler's veto is whether the conduct allows the speaker to continue addressing the audience," Zachary Greenberg told The Fix via email. "Attempts to shut down, talk over, or drown out speakers violates their expressive rights, and can be punished by universities."
"Hastings is not the only university to be struggling with offenses against expressive rights such as the heckler's veto," according to Greenberg.
"Many controversial speakers from across the political spectrum have been canceled, severely disrupted, and subject to the heckler's veto," he said. "Just this year, we've seen professors, political commentators, scholars, and politicians rendered unable to speak by protestors opposed to their views." 
"This affront to free speech and the right to listen has no place at institutions of higher education devoted to the free exchange of ideas," the FIRE attorney said.
MORE: Cornell University refuses to cancel Ann Coulter speech
IMAGE: Lawthony/Twitter
Like The College Fix on Facebook / Follow us on Twitter