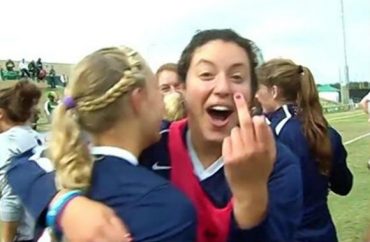 Administrators get qualified immunity despite her 'viable First Amendment claim'
After she lost her athletic scholarship for giving the middle finger on live TV, a former University of Connecticut soccer player sued her former coach and two university administrators on First Amendment grounds.
Even though Noriana Radwan brought a "viable First Amendment claim" against them, a federal judge still gave the defendants qualified immunity on the basis that her crude gesture was broadcast on national television.
U.S. District Judge Victor Bolden granted summary judgment to the UConn defendants in a ruling earlier this month, even as he acknowledged that "[r]aising one's middle finger … has long been recognized as expressive conduct protected by the First Amendment."
The gesture predates American history by thousands of years, the judge said: It was "used by Diogenes to insult Demosthenes" in ancient Greece.
Nevertheless, Bolden shielded former women's soccer coach Leonard Tsantiris and former Athletic Director Warde Manuel from liability for their action against Radwan. A third defendant, former Financial Aid Director Mona Lucas, was judged to have no role in the First Amendment claims.
MORE: Radwan sues UConn for yanking scholarship over flipped bird
Radwan had received the scholarship for the 2014-2015 academic year. "[I]n a moment of youthful, celebratory exuberance" after beating the University of South Florida during a round of penalty kicks, according to Bolden, Radwan flipped off an ESPNU camera, which was broadcasting the game nationally.
This created an embarrassing scene for UConn, which received a penalty from the American Athletic Conference. Tsantiris and other university officials apologized. Radwan was suspended from playing and would later have her scholarship revoked as punishment.
Judge Bolden's reference to the national broadcast of Radwan's middle finger illustrates "[o]ne of the major problems with the way many courts analyze qualified immunity claims," Mudrick & Zucker counsel Samantha Harris told The College Fix in an email.
Many judges will "only deny qualified immunity if the facts of the case are virtually identical to the facts of another case where an official's conduct was ruled unconstitutional," said Harris, also a senior fellow at the Foundation for Individual Rights in Education. Radwan's attorney, Gregory Tarone, did not respond to a Fix query on the next steps in the case.
'Reasonable jury' might believe national broadcast 'complicate[d] the matter'
Bolden ruled in favor of the defendants on all five of Radwan's claims: Title IX, First and 14th Amendment, Connecticut common law breach of contract and "negligent infliction of emotional distress."
His discussion of qualified immunity stands out because, from the outside, it may look like the judge flipped a coin to reach his conclusion.
The UConn defendants argued it was "objectively reasonable" for them to believe that yanking Radwan's scholarship in response to her gesture didn't violate "clearly established law," which is one test for qualified immunity.
They said it's not clear whether current Supreme Court jurisprudence on protected expression applies to college campuses, as most cases on the subject involve "student speech in elementary, middle, and high school settings."
Under that jurisprudence, courts consider whether such speech will "materially and substantially disrupt work and discipline of the school," if it "could be perceived as affirmatively promoted by the school," and whether the speech is vulgar, lewd or otherwise undermines "the school's basic educational mission."
MORE: Princeton suspends players for 'offensive' emails, won't describe them 
A "reasonable jury" could find against UConn based on the first two standards, Bolden ruled. He cited a private email by Manuel, then the athletic director, arguing that punishment beyond a reprimand and a suspension for Radwan "would be excessive." Jurors could also reasonably conclude Radwan's "inadvertent gesture … did not represent the school's viewpoint."
On the third standard, known as Fraser, Bolden granted qualified immunity almost in spite of his own analysis.
He acknowledged that the Fraser standard has only been applied to K-12 students, and that the 2nd U.S. Circuit Court of Appeals – whose rulings are binding on his court – has "expressed skepticism" that institutions of higher education have "as much latitude" over student speech as do K-12 schools.
He also personally observed that "university students, largely over the age of eighteen, are no longer children." Yet Bolden granted qualified immunity, on the basis that the national broadcast of Radwan's gesture has "complicate[d] the matter."
 'Private employees do not have such protections!'
Harris, the lawyer and FIRE fellow, cited the Radwan ruling in a Reason essay criticizing the "judicially created doctrine" of qualified immunity, which "almost never" holds state officials, including university administrators, personally liable for constitutional violations.
Since Radwan would have to show another instance of a college athlete losing their scholarship for First Amendment expression broadcast on national TV, this case "is a perfect example of how this narrow approach makes it almost impossible to overcome qualified immunity," Harris told The Fix.
Judge Bolden should have reviewed "the long line of cases" from the high court that found "profanity is constitutionally protected and held that any reasonable official would have known it was unconstitutional to punish a student merely for profanity," Harris said, citing Cohen v. California and Papish v. Board of Curators of the University of Missouri.
MORE: Harvard punishes men's team for past team's 'crude' comments
The problem with qualified immunity is not whether public administrators are simply ignorant of the law, but on "how high a barrier courts have erected to finding that the law is clearly established in any given situation," she said.
In her Reason article, Harris noted that the rationale for the creation of qualified immunity was to protect public officials from "the constant fear of liability for 'reasonable but mistaken judgements about open legal questions.'"
Asked how qualified immunity could be more "reasonable," Harris told The Fix she understands that public officials need "breathing room." Yet the current standard lets public officials off the hook for almost any reason, while at the same time "private employees do not have such protections!"
At the minimum, she said, courts should remove the "insurmountable barrier to justice" in the current application of the doctrine: "the absence of a case with identical facts."
MORE: Columbia suspends wrestlers for vulgar texts
MORE: Columbia violates own rules by punishing lewd private messages
IMAGES: ESPNU screenshot, Foundation for Individual Rights in Education
Like The College Fix on Facebook / Follow us on Twitter