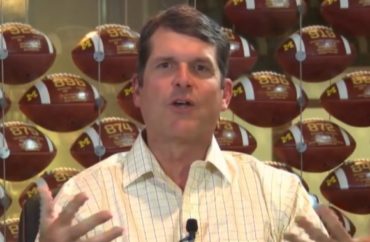 Including a student journalist who promotes the 'best vibrators'
University of Michigan football coach Jim Harbaugh is taking heat for his recent comments on abortion, including from a UMich student journalist whose publication helps minors secretly get abortions.
But the vocally pro-life coach is also finding fans from rival schools such as Ohio State and Michigan State, who cheered Harbaugh for his defense of preborn children.
In his first interview since the COVID-19 outbreak, the 14-year NFL veteran (above) joined National Review senior editor Jay Nordlinger's podcast Q&A earlier this month.
Asked about the impact of the outbreak on society, the Roman Catholic Harbaugh looked at the glass as half-full.
"Even now, as we all go through what we're going through with COVID-19, I see people more concerned about others" as well as "more prayerful," Harbaugh said, according to the Detroit Free Press. He praised Generation Z for thinking "less about themselves and more about the planet and the environment and others."
As the novel coronavirus wreaks havoc around the globe, people are "taking more of a view of sanctity of life," Harbaugh continued. That new concern clashes with the fact that American society "aborts babies. I mean, there can't be anything more horrendous."
UMich student Tess Garcia, an author at Teen Vogue and contributor to other lifestyle publications, didn't like the coach's denunciation of abortion.
"Things that are more horrendous than abortion," she tweeted in response: "Jim Harbaugh's coaching record" and the coach "being the highest-paid public employee of the state of Michigan."
Things that are more horrendous than abortion:
-Jim Harbaugh's coaching record
-Jim Harbaugh being the highest-paid public employee of the state of Michigan https://t.co/fnehUnj3uA

— Tess Garcia (@HiThisIsTess) April 12, 2020
MORE: Mississippi State coach forced to apologize for quarantine joke
Not only is Garcia part of the Twitter-verified elite, indicating that Garcia's account is "of public interest," but the student journalist is a former style editor at The Michigan Daily, the independent campus newspaper. Among her recent Teen Vogue contributions is a list of the "15 Best Vibrators on Amazon" this year.
Garcia's subject matter is not unusual for the nominally teen-focused magazine, which dropped its print edition more than two years ago. Its highly sexualized content has drawn widespread condemnation.
Teen Vogue has published articles that glorify abortion, including a sex column that guides minors on how to get an abortion without tipping off their parents, as well as comprehensive guides to anal sex, oral Sex and "queer sex." In addition, the magazine ran columns on the "Health Benefits of Masturbation" and tips for making "orgasms literally magical."
Harbaugh did not respond to College Fix queries April 13 and April 15 to the phone number and email address listed on his Twitter profile in the past. The athletic department did not respond to requests sent April 10 and April 15.
"We have nothing to add regarding Coach Harbaugh's personal opinion," university spokesperson Rick Fitzgerald told The Fix. He did not respond to a followup query about whether the university has received any complaints about the coach's abortion comments.
Harbaugh is 'worried about the wrong kinda terminations'
Students, alumni and others also decried the coach's values, some criticizing his capabilities as a coach.
"jim harbaugh out here looking at facebook memes about abortion instead of grinding film," tweeted a self-described "trans commie." The coach is "worried about the wrong kinda terminations" and should be concerned for his own firing "if you don't start beating ohio state."
Others didn't need to criticize Harbaugh's coaching. A self-identified UMich alum and abortion clinic volunteer ("clinic escort") tweeted that with "all non-due respect, I'd like to say the loudest FUCK YOU JIM HARBAUGH @CoachJim4UM #abortionishealthcare."
Jim Harbaugh is against abortion, yet he aborts Michigan's season every November against Ohio State. https://t.co/qaXOYTO84O

— Cameron (@silentbob2001) April 12, 2020
Why the fuck is Jim Harbaugh talking about abortion?

— Go Blue (@poppaTman) April 12, 2020
MORE: NCAA shifts blame on shutdown of coronavirus fundraiser
On the other side, his pro-life position helped Harbaugh pick up some fans from unexpected places, including Michigan State Spartans and Ohio State Buckeyes.
"As an MSU fan that loathed Harbaugh long before he became UM's coach, I appreciate this about him," one tweeted. "Big Sparty fan here but we cheer for the same team…team life!! I never say this but when it comes to life…Go blue!" tweeted another, quoting UMich's athletics motto.
Over at Ohio State, where the football rivalry is more bitter, Harbaugh still saw similar support.
Responding to a Students for Life of America tweet sharing Harbaugh's interview, a self-described OSU parent with "no interest in football" became a UMich fan "just like that."
A Facebook user wrote: "Strange times, me, the big Ohio State Buckeyes fan, posting an article and actually gaining new respect for Jim Harbaugh…"
Wow, @CoachJim4UM, as an Alabama and MSU alumnus, I've been hard on you on football, but I shan't be going forward; thank you for stating this: Michigan football's Jim Harbaugh: 'There can't be anything more horrendous' than abortion https://t.co/oMZMNjlXlm via @freep

— Wes O-Cerebro-Cortex (@CrimsonTideWes) April 11, 2020
As a MSU fan I have to agree.

— Paul (@pgaldes75) April 12, 2020
As a Ohio State fan (devoted) I truely respect Jim Harbaugh stand on abortion. God bless you. https://t.co/xdA6TEjzQi

— mike zamrzla (@ZamrzlaMike) April 14, 2020
MORE: Coach suspended after saying he'd have dinner with Hitler
IMAGE: Mitch Albom/YouTube
Like The College Fix on Facebook / Follow us on Twitter