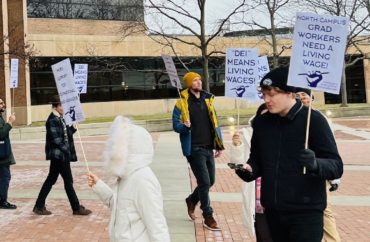 State labor commission judge says union did not follow contract
University of Michigan grad students who have refused to perform their job duties could lose their pay, school officials announced on April 21. The announcement follows a recent legal decision by the state's Employment Relations Commission that sided with the university.
The Big Ten university emailed graduate student instructors on April 21 and informed them that those who have not worked during the ongoing Graduate Employees Organization strike will not get paid.
The email, obtained by The Michigan Daily, stated:
The Graduate Employees Organization (GEO) remains on strike in violation of its labor contract and, as has been communicated previously, the university will not pay striking workers for any time not worked.

GSIs and [graduate student staff assistants] who continue working and submit the attestations during the strike will be paid. GSIs and GSSAs are required to verify they are working in order to receive pay. If you attest that you did not work, or if you do not complete the survey, you will not receive pay for that time period, absent proof that you worked.
The grad students must turn in their timesheets by the end of the day today.
"The university is following through on what we told GEO at the start of the strike: Those who refuse to work will not be paid," UMich spokesman Rick Fitzgerald told the campus newspaper. "Those who continue to work will be paid. That's just how strikes work. And remember that the GEO strike started March 29, so they already had been paid for March at that point."
An administrative law judge recommended that GEO be ordered to stop its current strike.
The decision stated that GEO should be told by the labor relations commission to:
Cease and desist from repudiating Article III of its collective bargaining agreement with the University of Michigan by causing, instigating, supporting, or encouraging any strike or work stoppage by employees, including the failure to report for duty or to fully, faithfully, and properly perform the duties of employment; by failing to disavow such action or interference with the operations of the University; and by failing to follow the employee notification provisions in the agreement.
The graduate employees union disagrees with the university's conclusion.
"This represents a severe escalation by the administration", GEO president Jared Eno stated in a news release. "Graduate workers are already experiencing a cost-of-living crisis, and many will now struggle to afford their May rent payments. It is shameful that President Santa Ono and Provost Laurie McCauley – both of whom make several times in a single month what graduate workers make in an entire year – would put their workers in this position."
The union has previously demanded a fund to pay for abortions and that university disarm its campus police, as previously reported by The College Fix.
MORE: Temple grad assistants shocked at losing free tuition, benefits for not working
IMAGE: GEO 3550/Twitter
Like The College Fix on Facebook / Follow us on Twitter