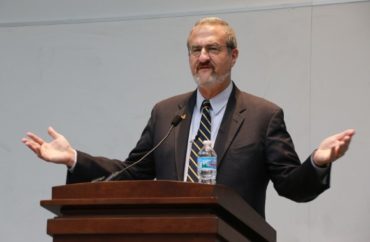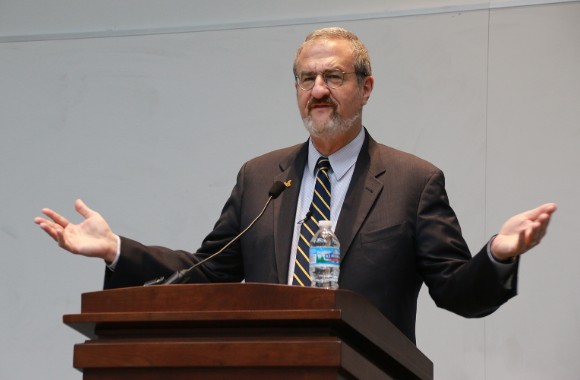 Also refuses to partially refund tuition for disrupted winter term
The University of Michigan ignored two binding appeals court precedents on cross-examination in sexual misconduct proceedings, according to a federal judge. For that defiance, eight current and former officials lost their "qualified immunity" from personal liability for constitutional violations.
The president of the taxpayer-funded institution may be living in a different reality, telling the student newspaper that he's a "huge believer in due process."
Mark Schlissel's glowing self-approval appeared in his monthly interview with The Michigan Daily, which apparently did not bother asking him about U.S. District Judge Arthur Tarnow's searing March 23 ruling against the university.
Published Friday, the interview focuses mostly on UMich's response to the coronavirus pandemic. But it also delves into its recent firing of a professor who was indicted on charges of sexual assault last summer.
Asked when he decided that David Daniels should be fired, Schlissel responded:
For me, I am a huge believer in due process and allowing the accused to defend themselves, to see the evidence against themselves and allowing an investigation to be thorough and complete, and then going through each of the specified faculty policies and procedures when it comes to a disciplinary action that threatens the removal of tenure. So, I didn't become convinced until I saw the totality of the case a number of weeks ago when all of the back and forth and appeals were completed and I took another look at the complete, you know, really many, many hundreds of pages dossier of the instance. And that's when I decided to move it forward to the Regents with a recommendation to dismiss.
MORE: UMich officials lose 'qualified immunity' for constitutional violations
He also emphasized due process when asked about years-old sexual misconduct allegations against Martin Philbert, which led to his removal as provost earlier this month.
Schlissel denied knowing about the allegations when he recommended Philbert for the job in 2017, but noted he remains a tenured professor because the university is investigating whether his documented behavior is "relevant" to his teaching as well as his administrative duties. (Philbert was one of the officials who lost qualified immunity in the new ruling. Schlissel's role is still being litigated.)
Brooklyn College Prof. KC Johnson, who chronicles Title IX litigation, expressed amazement that the Daily did not challenge the "absurd" claim about due process by Schlissel, in light of the rulings.
"This is the same man who publicly claimed" the 6th U.S. Circuit Court of Appeals "got it wrong when it recognized due process rights" in a 2018 ruling against UMich, known as Baum, and "continues to fight [a] new due process case," Johnson wrote.
Obviously a stressful time for the campus media, but how could @michigandaily have allowed this absurd claim by the @UMich president to have gone unchallenged by a follow-up Q about his approach to Doe v. Baum or Doe v. Michigan?https://t.co/m5XNmJMvXw

— KC Johnson (@kcjohnson9) March 30, 2020
"[W]hy not simply be honest?" the co-author of The Campus Rape Frenzy tweeted. Schlissel's "consistent willingness to mislead about his approach to [Title IX] and due process is beneath the dignity of a major university president."
Students who are not accused of sexual misconduct also have reason to be mad at Schlissel, given his answers in the interview.
Asked if the university should "partially refund" winter tuition, given the fact that students aren't getting the in-person classes they paid for, Schlissel was blunt:
No, because the education is continuing. We certainly didn't choose to have this pandemic, and huge numbers of people have worked extremely hard to help our students make sure that they don't lose their academic progress and don't delay their graduation because of this really tragic global infectious outbreak. So they'll get regular credit for a regular semester, albeit delivered remotely the last third of it or so, and they've already paid and are responsible for their full tuition.
MORE: Judge blocks UMich from prosecuting accused student under new policy
IMAGE: University of Michigan Dearborn
Like The College Fix on Facebook / Follow us on Twitter