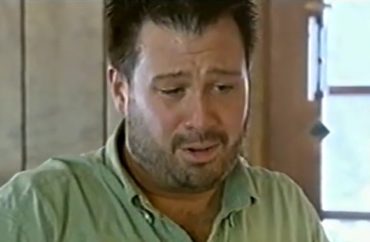 Evidence suggests this 'notorious philanderer' went 'beyond flamboyance'
A jury will hear a former University of Michigan graduate student's claim that a world-famous faculty member sexually harassed him throughout his time there, and that the university's response to the behavior was insufficient.
Senior U.S. District Judge Arthur Tarnow savaged the taxpayer-funded university in a ruling Thursday, marveling that it hired a "notorious philanderer" from the "largely unregulated" classical-vocalist industry and gave him "considerable power over younger students."
The university's defense against Andrew Lipian's lawsuit raised eyebrows last year when it questioned the heterosexual plaintiff on whether he'd ever had a "homosexual" experience, "kissed a man on the lips" or had sex with anyone other than his wife.
The accused vocal professor, David Daniels (above), was an acclaimed opera singer before he and his husband were indicted by a jury last summer for allegedly sexually assaulting a student at Rice University. He continued to draw a salary of nearly $200,000 after his indictment, though UMich finally stripped his tenure and fired him last month.
All but one of Lipian's claims were dismissed by Tarnow, a jurist with whom UMich has repeatedly tangled in recent years over due process in sexual misconduct proceedings. University officials were given "qualified immunity" from personal liability, for example.
But the Clinton appointee denied UMich's motion for summary judgment on Lipian's Title IX sexual harassment claim. Tarnow questioned whether it bothered training Daniels on sexual harassment when he joined the faculty, or took reasonable steps to stop his behavior after a student claimed he offered to pay for sex.
While being put on notice that a professor has a "general sexual proclivity towards younger men" is not enough to "establish notice of a hostile educational environment," Tarnow said, "the evidence suggests that Daniels's behavior went beyond flamboyance."
A university spokesperson told the Detroit Free Press that it was "pleased the court dismissed most of the counts in the complaint in this matter," but did not comment on Tarnow's scolding. "We take prompt and appropriate action in response to claims of harassment, including with respect to Mr. Lipian," he said.
Jury to decide if University of Michigan turned blind eye to gay professor's sexual harassment by The College Fix on Scribd
Dropped investigation when no one copped to anonymous complaint
Before Daniels' hire, Voice Department Chair Stephen West was informed that he had a reputation for grooming, according to Tarnow's summary.
Another professor, Matthew Thompson, testified that he warned West "someone needs to be sure" that the pending hire is "not going to be engaging with young students."
West reportedly asked Thompson "whose responsibility that should be," his or Melanie Racine's, dean of the School of Music, Theater and Dance. (Thompson reportedly claimed Racine ignored his own sexual harassment claims as a student in the music school.)
Lipian portrayed his two-year academic and personal relationship with Daniels – both countertenors – as a nightmare of crossed boundaries.
The professor asked him for pictures of Lipian's genitals and video of him masturbating, and sent him a video of Daniels masturbating, among other lewd behaviors, the student alleged. Daniels made "statements regarding other students' bodies" and expressed his wish that Lipian were gay, according to Tarnow's summary.
Asked to explain "friendly or even sexual banter" in their text messages, Lipian said he feared that the opera singer would ruin him in the "small and personal" world of classical vocalists if he didn't "play along" and "even escalate" Daniels' dirty jokes.
MORE: UMich questions Lipian's sexuality to defend against suit
The former graduate student is the only one in the school to accuse Daniels of more than sexual harassment, however.
Invited to Daniels' house to watch RuPaul's Drag Race one night in March 2017, Lipian said the professor offered him an Ambien pill in the guise of Tylenol PM after he'd had "several glasses of bourbon." The next thing Lipian knew "he was being dragged upstairs and sexually assaulted," the summary reads.
One of the key incidents in the litigation is UMich's response to an anonymous complaint late in Lipian's relationship with Daniels, in March 2018. A student claimed that Daniels had propositioned him for sex on the gay dating app Grindr.
The Office of Institutional Equity dropped the investigation after reaching out to all first-year vocal students and getting only three responses, with two interviews that revealed no concerns about Daniels. Investigator Elizabeth Seney met with Daniels to discuss the sexual harassment and faculty-student relationship policies, but it's not clear how much she told him about the allegations.
The university's alleged indifference convinced Lipian that his own claims would be ignored, a hunch confirmed by Thompson, in whom he confided that April. Daniels was granted tenure the next month, with a personal recommendation from Lipian submitted months after his alleged assault.
Daniels' world fell apart in July: Someone accused him of being a "serial rapist" on the Facebook page for the opera program, another emailed the school and regents with a sexual assault claim dating to 2010, police interviewed him, and he and his husband were indicted.
Only then did the school tell students about the claims against Daniels, and Lipian told Thompson about the alleged assault from March 2017, at which point the professor reported it. The university put a hold on its own investigation at the request of law enforcement, which was investigating Daniels.
A subsequent report on Daniels' behavior toward the "student body at large" found that more than 20 people had "first-hand knowledge" of his sexual harassment. The report on Daniels' behavior with Lipian was less certain, finding that the professor violated faculty-student relationship policy but not enough evidence to prove sexual harassment.
'Cordial conversation,' rather than confrontation, baffles judge
Tarnow found a "material dispute of fact" on whether Daniels committed "quid pro quo" sexual harassment and Lipian was subject to a sexually hostile environment.
The fact that Lipian denied being a victim in "unrelated medical appointments" may not stop a jury from believing that an "otherwise honest witness" was simply not ready to talk about the incident, the judge said.
While the university argued no one had "actual notice" of Lipian's allegations until Thompson's formal report in August 2018, after Daniels' arrest, the judge said that West, the department chair, was an "appropriate person" to handle the situation much earlier.
Not only did he reportedly convey to Thompson that "some intervention" might be necessary before Daniels' hire was finalized, but West had "direct supervisory authority" over Daniels:
[H]e had at least the authority to monitor Daniels's interactions with his students, instruct Daniels on proper student-faculty behavior and boundaries, and involve himself or others in Daniels's one-on-one vocal lessons.
Citing the case law of multiple courts in and out of his appellate circuit, the judge said that a university is "on notice" that a faculty member "may harass more students" once it learns that the member has already "sexually harassed others."
Tarnow cited "questions of material fact" as to what West (left) knew about Daniels' reputation before his hiring: The chair said he was "primarily concerned about Daniels' drinking," but Thompson said he and another faculty member warned that Daniels must be told to "keep his hands" off students.
Another material question of fact is whether Daniels kept harassing Lipian after the anonymous Grindr report, raising the question whether the university's investigation was so inadequate that it made Lipian "subject to further harassment."
While "[r]eprimand letters and 'talking' to harassers" count as deliberate indifference when they fail to stop harassment, Lipian doesn't have the right to "his preferred remedy," Tarnow said, citing a 6th U.S. Circuit Court of Appeals ruling from December.
He warned that "universities that respond too heavy-handedly to sexual harassment complaints can find themselves liable for violating the due process rights of the accused."
MORE: UMich officials can be held personally liable for violating student's rights
Yet "the evidence suggests" the university "may have mishandled earlier indications that Daniels was a danger to its students," the judge continued:
The record suggests that nobody took action to advise Daniels on appropriate standards for faculty-student relationships. Daniels was given a copy of the Standard Policy Guide on sexual harassment and faculty-student relationships, but there is a fact question as to whether he was given any sort of sexual harassment training.
Tarnow denounced the university for not even "warning [Daniels] that abusing such power [over younger students] would have consequences."
Investigator Seney's decision to meet with Daniels for a "cordial conversation" – which may have never even "directly" broached the allegations – baffled the judge. It wasn't surprising that no one took responsibility for the anonymous Grindr complaint, he said:
The OIE cannot reasonably provide mechanisms for anonymous reports and then refuse to pursue or credit anonymous leads when no complainant comes forward and identifies themselves. Nor can the OIE reasonably expect students to publicly come forward given the University's problems with anonymity.
Both Thompson and Lipian testified that they feared retaliation by Daniels, who served on Thompson's employment review committee and could ferret out anonymous complaints in the "small cliquey program," the judge said.
Had the university "conducted even a tenth of the investigation" that it would later conduct, "it would have likely uncovered evidence of Daniels's pervasive misconduct."
While he concluded the university's report on Lipian's encounters with Daniels was not "retaliatory" as the student claimed, Tarnow trashed the report anyway. Not only did it ignore Lipian's 374-page deposition for "absurd" reasons, but it was "shockingly mean-spirited," full of anonymous students trashing Lipian.
"The Court is deeply troubled that the University's response to a sexual harassment complaint is to publish a document filled with innuendo and rumor regarding the complainant's sexuality, lifestyle, and personality," Tarnow wrote.
What remains for a jury to decide: whether UMich officials knew that "one of the greatest countertenors of the age" had "alleged proclivities towards exploiting power-dynamics with his students," and the nature of his relationship with Lipian, who "left feeling traumatized and betrayed."
MORE: Title IX doesn't give accusers the right to dictate how colleges respond
IMAGE: Pablo Ramis/YouTube
Like The College Fix on Facebook / Follow us on Twitter