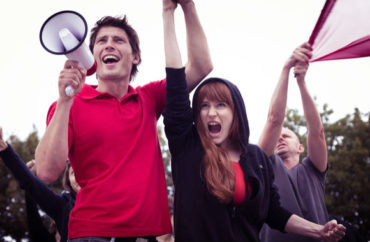 Statue's return would be 'extraction of our labor without compensation'
It may not be a bad time to skip a semester at the University of North Carolina.
Some teaching assistants and faculty held grades hostage to protest a plan to return the "Silent Sam" Confederate statue to campus, and they are threatening to do it again as the school considers alternate plans through March 15.
The "StrikeDownSam Anti-Racist Coalition" wrote in a Monday blog post that it had "recently released all grades for the fall 2018 semester" because the Board of Governors rejected the $5 million "history center" the administration had proposed to house the controversial statue.
But the coalition "will be in a strong position to continue our action in spring 2019 if the BOG, [Board of Trustees], or members of the University administration decide to place UNC students at risk" by returning the statue to campus. Silent Sam honors UNC students who died fighting for the South in the Civil War.
The coalition justified holding grades hostage because of the "extraction of our labor without compensation," by which it meant that the proposed history center would "engage an already exhausted faculty and student body in another protracted debate about white supremacy and its legacy on this campus."
The administration showed "little regard for our right to pursue happiness as we go about our work on this campus" by telling the history of the statue without using the words "white supremacy, Jim Crow, slavery, and African American," the post says.
MORE: UNC TAs refuse to release grades to protest 'Silent Sam' plan
But it makes clear that the coalition will never tolerate the use of any campus building to tell the history of Silent Sam, regardless of how it's told, ensuring that students won't learn the history of the controversy. "The Confederate monument must never return to campus in any shape or form nor a center to its history be erected."
The coalition accused the Board of Governors of trying to "intimidate dissenting students" by calling for "minimum sanctions" on students, faculty and staff who "engage in unlawful activity that impacts public safety." The law is "routinely" abused by police who punish protesters for "peaceful assembly," according to the coalition.
The News & Observer reports that grades were "released collectively" on Sunday, though it's not clear how many TAs and faculty were participating at the end. At the start of the grade strike, the coalition said "80 were participating, potentially affecting 2,300 grades."
The state division of the Sons of Confederate Veterans also accused the Board of Governors of violating state law by not returning the statue to campus within 90 days, and the Board of Trustees of illegally limiting the statue's placement to the proposed history center.
Read the coalition statement and News & Observer report.
MORE: 'Silent Sam' history center shot down by UNC board
IMAGE: Photographee.eu/Shutterstock
Like The College Fix on Facebook / Follow us on Twitter