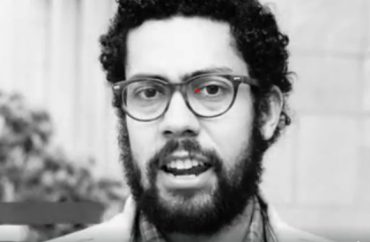 We're fasting, too
Getting the public to care about union contract negotiations is a tough slog, so Yale's graduate teaching assistants are taking it up a notch.
They are not only pledging to stop eating for the foreseeable future, but they are saying Yale threatens women and holds black people down.
Local 33, known as UNITE HERE, sent out an eye-opening press release Tuesday evening after the administration "flouted a second and final deadline" to start negotiations, two months after graduate teachers in eight departments voted to form a union.
They held a demonstration outside the president's home, but didn't stop there:
"There's an ongoing crisis of sexual harassment on campus that Yale sweeps under the rug," said Julia Powers, a faster and graduate teacher in Comparative Literature. … "Yale tried to assign a sexual predator to oversee my work and decide my future. I'm tired of waiting."
Powers did not mention a sexual predator when she was interviewed by the Yale Daily News about union organizing last fall:
Julia Powers GRD '19, a student in the Comparative Literature Department, told the News she had to wait six weeks to see a therapist at Yale Health, and was eventually assigned a male therapist, even though she had requested a woman.
She didn't mention it again a month later when her department dropped out of the union organizing effort:
Julia Powers GRD '19, a Local 33 supporter in the Comparative Literature Department, declined to comment on her department's withdrawal. But in an interview last month, Powers told the News that a majority of her department supported Local 33.
MORE: Mizzou hunger striker who mocked women, poor wins 'Courage' award
Yale also wants to stop "racial justice," according to Charles Decker, a PhD candidate in political science also participating in the "Fast Against Slow" no-eating pledge:
I am one of 32 Black men in Yale's graduate school and Yale wants me to be invisible. … Every time I have stood up for racial justice at Yale, administrators act surprised and say they are working on it. Then nothing changes. It has been long enough.
Speaking of "Fast Against Slow," a new union video claims that eight graduate teachers started an "indefinite fast" Tuesday.
It does not say whether they will stop eating entirely, but it includes plugs from the co-founder of the National Farm Workers Association and vice chair of the Democratic National Committee.
According to the release, the eight fasters will continue their sacrifice "until the University comes to the negotiating table." The administration "should expect daily protests" as a result.
The College Fix has asked a PR official behind the campaign who is the sexual predator mentioned by Powers and how the fasters will verify to the public they are sticking to their pledge.
MORE: Parents of Mizzou hunger striker are loaded
Like The College Fix on Facebook / Follow us on Twitter
IMAGE: Local 33-UNITE HERE/Facebook