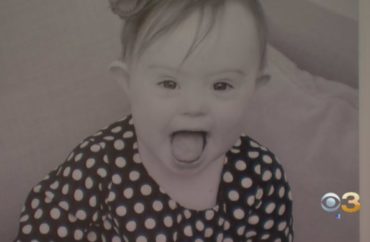 Lawmaker alarmed that school is 'acting as an extension of the police department'
Gun control is so 2010s. The new decade may usher in finger-gun control.
Pennsylvania's Tredyffrin-Easttown School District called police on a 6-year-old girl with Down Syndrome for making a finger-gun gesture toward her teacher, the girl's mother told CBS Philly.
The district is defending the "threat assessment" and the summoning of police, even though it concluded that "nobody was in harm's way" when Margot Gaines got angry at her teacher, pointed and said "I shoot you" back in November.
Maggie Gaines, her mother, made the incident public in a letter to the school board last month. She said her daughter was immediately taken to the principal's office after the incident, "and it was quickly assessed that [Margot] didn't even really know what she was saying":
"They were asking her questions, and she was saying, 'Oh, I shoot mommy,' laughs, or, 'I shoot my brother.' The principal asked, 'Did youmean [sic] to hurt your teacher?' And she said no and it seemed like she didn't even know what that meant," Gaines stated.

Sources tell CBS3 Margot has no record, but her name is part of an official report. …

"She really didn't understand what she was saying, and having Down syndrome is one aspect, but I'm sure all 6-year-olds don't really know what that means," Gaines said. "Now, there is a record at the police that says she made a threat to her teacher."
The school district provided CBS Philly a statement saying it agreed to review those practices in a committee meeting. The "current practice" – which apparently gives little heed to context – was developed with "parents, law enforcement and private safety/mental health agencies and legal consultants," it said.
MORE: Kid suspended for using finger like a 'laser gun'
The Gaines family contacted state state Sen. Andrew Dinniman to take up their concern with the school district. The Democrat released a statement saying the district's decisions "appear to be guided blindly by written policy or legal interpretation" without the use of "commonsense":
Furthermore, I am alarmed that a school seems to be acting as an extension of the police department in promulgating data and records on children as young as kindergarteners [sic].
Gun rights news site Bearing Arms noted that Margot isn't the only child to get in trouble for the gesture, and faced far from the worst consequences.
Last year in Kansas, prosecutors brought felony charges against a middle school girl who made a finger gun while bringing misdemeanor charges against students who brought actual firearms to school:
Both of these cases demonstrate an absurd inability on the part of the school district to tell the difference between actual threats and kids being kids, but they also demonstrate that public officials are quick to recognize when adverse media attention might prove problematic for them. It's just a shame that it takes local reporters getting involved for these school districts and public officials to do the right thing.
Read the report and Bearing Arms analysis.
h/t Cam Edwards
MORE: TSA interrogates college student for making school salute
IMAGE: CBS Philly
Like The College Fix on Facebook / Follow us on Twitter